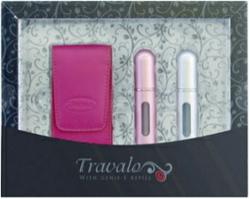 Travalo products are simply amazing! They are light, compact and exceptionally convenient. After I got one, I wanted to get an entire set for all my fragrances! Thanks Travalo!
Los Angeles, CA (PRWEB) November 17, 2012
Sweepstakes Ninja welcomes Travalo USA as a sweepstakes giveaway sponsor in its Sweepstakes Draws. Travalo is a patented, refillable fragrance bottle that allows an individual to refill perfume in seconds with a simple repeat pump action. Featured in the press, through such publications as Style Magazine, Cosmopolitan, The Oprah Magazine, and the Wall Street Journal, Travalo has also won over 10 industry awards in the last two years. Sweepstakes Draws by Sweepstakes Ninja, are an innovative, new way of engaging consumers with product brands. Sweepstakes Ninja received recognition from the sweepstakes industry at the recent national sweepstakes convention, in Atlanta, Georgia, 2012. Travalo sponsored several prize packages, and was well received amongst 700+ attendees. Sweepstakes Ninja is pleased to welcome Travalo again as part of their new service, Sweepstakes Draws.
Travalo products are easy to use, refillable fragrance spray bottles. Carrying a large glass perfume or aftershave is inconvenient, and heavy. Travalo products are light, compact, easy to carry products that allows an individual to carry their fragrance with them any time, anywhere. Travalo products are aircraft approved, meaning that they can be taken in hand as carry on luggage onboard planes anywhere in the world.
Contestants have a chance of winning a Travalo Travel package. It is a quality product that consists of two Travalo Excel Fragrance bottles, and a high grade black leather with a rich grained texture. The products easily fit into a purse or handbag.
The sweepstakes promotion officially runs until December 1st, 2012. It is a daily entry sweepstakes. To increase their chances of winning, the entrant may share sweepstakes links with friends, family, and through social media. This is a win-win situation for both Travalo and the entrant. Entrants increase their chances of winning award winning products, and more people learn about the Travalo line of products. There have already been 10,000+ individuals introduced to the Travalo line of products through Sweepstakes Ninja.
For more details about this sweepstakes giveaway, or to learn how you may participate in the Sweepstakes Draws and benefit from increased marketing exposure, please contact Johnathan at Sweepstakes Ninja, or visit http://sweepstakesninja.com/sweepstakesdraw/draw/travalo-package/.