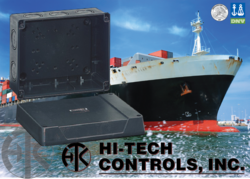 Centennial, CO (PRWEB) November 14, 2012
Hi-Tech Controls is proud to carry Hensel's line of DNV approved cable enclosure boxes, designed and built for the maritime industry. These enclosures are created for applications such as ships, off-shore drilling platforms, shipyards & harbors.
To be approved by DNV these products have to meet strict requirements to be able to cope with the extreme conditions encountered at sea. These enclosures must not only be able to withstand the effects of the wind and water, but the aggressive salty atmosphere, fluctuations with hot to cold temperatures and UV Rays.
The enclosures also undergo significant mechanical loads. For this reason, it's important the enclosures are impact-resistant and able to withstand temporary flooding. These products are rated to a protection of IP67. The Hensel KD enclosures can also withstand submersion to 1 meter for about 15 minutes.
These enclosures are made from high quality thermoplastic and the enclosure screws are made of 316L (V4A) Stainless Steel. Not only are these enclosures salt water and impact resistant, but they are flame retardant and self extinguishing. Made from Non-Toxic Halogen-Free materials.
Hi-Tech Controls & Sealcon will be at the International WorkBoat Show in New Orleans, Dec 5th – 7th 2012 discussing this new lines of DNV enclosures. Please check us out at the show at Booth #3571 or contact our qualified sales team to sample your application today! Toll Free: 1-800-677-8942 / Web: http://www.hitechcontrols.com