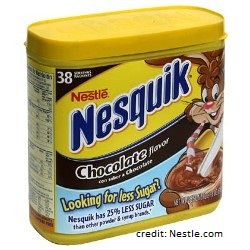 Salmonella infections can be extremely serious and could have long-term effects.
Newport Beach, CA (PRWEB) November 13, 2012
Nestle USA is issuing a recall for more than 200,000 canisters of his Nesquik chocolate powder due to potential salmonella contamination. According to a Nov. 8 news report in The Associated Press, the food producer has announced that the Nesquik canisters produced in early October were sold at retailers across the country. The recall comes after supplier, Omaya, Inc. decided to recall some of the calcium carbonate used in the product due to salmonella contamination, the report states. So far, no illnesses have been reported in connection with these products, AP reports. Nestle is asking that consumers who bought the affected Nesquik products not use them and return them to the store for a full refund, the report states.
According to the U.S. Centers for Disease Control (CDC), during 2008 alone, 1,034 foo-borne disease outbreaks were reported. During these outbreaks, 23,000 people got sick and 22 people died. Almost half of these outbreaks had a single cause or food source, according to the CDC report. In addition, more than 1,200 people were hospitalized because of food poisoning in 2008, the report states. Nearly 62 percent of these hospitalizations were due to salmonella infections. According to CDC's web site, the most common symptoms of salmonella poisoning include fever, nausea, vomiting diarrhea and stomach cramping.
Salmonella infections can be extremely serious and could have long-term effects, said John Bisnar, founder of the Bisnar | Chase personal injury law firm. "We have represented clients who have suffered the effects of salmonella poisoning from months if not years."
It is the responsibility of food producers to ensure that the products they manufacturer are safe for consumers, Bisnar said. "It is important that those who have been affected by contaminated food products immediately stop consuming them and isolate the product. It would be a good idea to have the product tested in a laboratory to determine if it has been tainted. Anyone who has been sickened by a food product would also be well advised to file a report with his or her local healthcare agency."
About Bisnar | Chase
The California product liability lawyers of Bisnar | Chase represent victims of auto accidents, defective products, dangerous roadways, and many other personal injuries. The firm has been featured on a number of popular media outlets including Newsweek, Fox, NBC, and ABC and is known for its passionate pursuit of results for their clients. Since 1978, Bisnar | Chase has recovered millions of dollars for victims of auto accidents, auto defects and dangerously designed and/or maintained roadways.
For more information, please call 800-561-4887 or visit http://www.bestattorney.com for a free consultation.
Sources: http://abcnews.go.com/Business/wireStory/nestle-voluntarily-recalls-nesquik-17674598#.UKJqPY49wRw