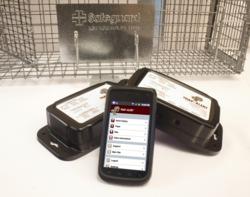 ...we can help New Frequency grow and keep manufacturing jobs in Georgia.
Cumming, GA (PRWEB) November 13, 2012
New Frequency has been awarded a Georgia Center of Innovation Research Grant with the support of its project sponsor, the Georgia Tech Manufacturing Institute. This grant will allow New Frequency to develop its new scalable software platform for its award winning Trap-Alert® solution and create a database design that will enable New Frequency to expand its product offerings beyond the pest and wildlife control market segments.
The Trap-Alert® system, New Frequency's first product to hit the market, is paving the way by taking its proven information system and applying this technology to other markets where real-time access to critical information creates efficiencies that save business owners time and money. The Trap Alert® system is a combination of hardware, software, GPS and wireless technologies that enables animal trappers to actively monitor the status and location of animal traps through a web-based application.
New Frequency development efforts are currently underway in new market segments, including the utility, restaurant, grocery store and small business sectors by creating both web and mobile front end and back end solutions enabling customers in these segments to monitor power outages, temperature changes, and harmful gas emissions utilizing New Frequency's wireless monitoring devices. These specialized devices, like the Trap-Alert® system, monitor changes in state and instantly connect back to a centralized application database, which in turn sends actionable alarms and critical information back to system users.
"We are thrilled to obtain such a prestigious grant and to partner with one of the top technology institutes in the world, Georgia Tech," stated Todd Moran, New Frequency's President and CEO. "This grant, facilitated by the Georgia Center of Innovation, allows New Frequency to create a long term sustainable platform for every product line in our pipeline. Having a well-planned database solution is a key to our long term growth and success and this grant will allow us to take our business to the next level," Moran further noted.
"This project was a great opportunity to utilize a Center of Innovation (COI) Matching Grant to assist a Georgia manufacturer by developing advancements to their existing communication capabilities, enabling them to grow and create jobs in the state," said John Zegers, Director of the Center of Innovation for Manufacturing. "The mission of COI for Manufacturing is to connect manufacturers with people who can solve their problems, and being strategically located at the Georgia Tech Manufacturing Institute has given us the direct access we needed."
"We're pleased to collaborate with New Frequency," said Andrew Dugenske, Georgia Tech Manufacturing Institute (GTMI) Research Manager. "We believe this project will enhance their business management and cellular data collection products. By applying technology developed at our Factory Information Systems Center, we can help New Frequency grow and keep manufacturing jobs in Georgia."
To learn more about the Georgia Tech Manufacturing Institute, go to: http://www.manufacturing.gatech.edu