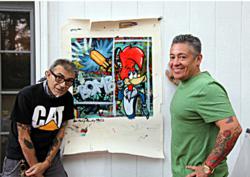 Miami, FL (PRWEB) November 13, 2012
Miguel Paredes, Miami based pop artist and New York native, will be exhibiting a new series of art with fellow artist, long time friend and mentor, Ronnie Cutrone. Paredes and Cutrone have spent the past months working together on this collaboration in Cutrone's private studio located just outside New York City in time to debut through several events taking place during Art Basel Miami 2012.
The collaborative collection includes 5 paintings where Paredes has incorporated his style on Cutrone's animated pieces of famed characters like Woody the Woodpecker and Felix the Cat. The two have also joined forces to re-imagine Cutrone's most prized series of works the "Supermodels Suite" by combining different styles such as Street, Pop, and Anime. The series was created in 1997 and features top models from the era such as Naomi Campbell, Cindy Crawford, Elle McPherson and Claudia Schiffer and will be on display in Miguel Paredes Gallery during Art Basel, priced at $10,000 and up.
In addition to the collaborative pieces with Cutrone and his own original collection "Culture In A Bag", Paredes will also showcase various works from Gruce Lurie Gallery and LAB ART Gallery, the largest art gallery in the nation dedicated to street art. Artwork by eight of LAB ART's artists including Alec Monopoly, AJL, Louis XXX, Thank You X, Benjamin Alejandro, Mar, Gregory Siff and Skylar Grey.
The 6,000 square foot gallery in Miami's Wynwood Arts district will be open for public viewings every day starting Dec.5th-9th from noon – 5pm with special events nightly from 7pm – 11pm each evening.
The kick-off event vernissage, to launch the "New, Used & Abused," 2012 exhibit will be on December 5th from 8-11 pm, with a 'throw-back' feeling of 1980's New York City," the time and place when both Paredes and Cutrone were honing their crafts. Guests will enjoy cocktails by Pernod Absinthe, Alibi Whiskey & Wodka Vodka and music by DJ Ari X. Following the gallery event, guests, fans and collectors are invited to an after-party reception to be held at Riccochet Lounge in Midtown.
In addition to the daily events at the Wynwood Gallery, Paredes will also showcase his work at his store-front pop-up gallery the entire month of December at 412 Lincoln Road, Miami Beach from 1pm-1am.
Leading up to Miami's Art Basel, Paredes and Cutrone will preview their collection at the Bruce Lurie Gallery at 2736 South LA Cienega Blvd in Culver City starting on November 15th.
Paredes' work will also be featured at the Red Dot Art Fair Miami from December 4th-9th with Bruce Lurie Gallery, as well as at the Moore Building in the Design District on November 20th, as part of TigerDirect Holiday Technology Bash.
November 12th – 16th Paredes' oversized sculptures will be on display in conjunction with Primetime Amusements, Inc. at the International Association of Amusement Parks and Attractions in Orlando at the Orange Count y Convention Center. Work on display includes the "Lucky Cat," "Happy Buddah Pulghas" and "Pulgha Rising."
About Miguel Paredes : Miguel Paredes, originally from New York City, is an urban realist trailblazing the path for the burgeoning creative community in Miami's Wynwood Arts District. Utilizing elements from nature, graffiti, vivid pop colors, anime, and his children, Paredes creates an atmosphere of intrigue and mystery within each piece that immerses his audience in an unparalleled visual experience and inner journey. His works have been featured in Miami's famous Art Basel every year since 2003 and in shows around the world from New York to London.
About Ronnie Cutrone: Ronnie Cutrone, born in 1948 and known best for his time spent as Andy Warhol's assistant at The Factory from 1972 – 1980, is a renowned Pop Artist in his own right having popularized the use of America's favorite cartoon characters in colorful lively paintings during the 1970's.