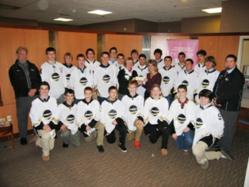 Arlington Heights, IL (PRWEB) November 13, 2012
Can a group of high-energy, teenage athletes contribute to a charitable cause? The Prep Hockey Club says, "Yes!" With some parental assistance, the Club's players raised $1,000 at their games in October, National Breast Cancer Awareness month. They chose to give the money to a local cause: Northwest Community Hospital's Gift-A-Mammogram program.
Gift-A-Mammogram helps uninsured, low-income people in our community cover the cost of procedures to diagnose and treat breast cancer. Christine Masonick, NCH's Breast Center manager, administers the program. She says, "I often talk to women who are desperate for help. Because of the generosity of donors like these players, I don't have to turn them away. Through Gift-A-Mammogram, we come to the aid of about 100 patients each year."
"Prep" is a combined hockey team representing Palatine, Rolling Meadows, Elk Grove and Prospect high schools. Field teams play in the North Central Division of the Illinois High School League, and most home games are held at West Meadows Ice Arena. In honor of Breast Cancer Awareness month, the players wore pink shoelaces throughout October. One of their fundraising activities was a "chuck a duck" raffle in which spectators purchased a chance to throw small rubber ducks onto the ice. The thrower whose duck landed closest to the center won the prize.
While it was all great fun, the club's president, Todd Peterson, says teaching young people to give back to the community is something Prep Hockey takes quite seriously. Peterson says, "We want the kids to know there's more to life than hockey. This is a great opportunity to develop responsible and caring young men and women."