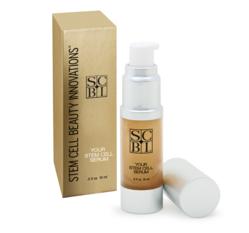 Sheep Placenta Facials are Simon Cowell's Fountain of Youth. According to the Daily Mirror.
Beverly Hills, CA (PRWEB) November 15, 2012
Stem Cell Beauty Innovations / SCBI LLC
http://www.stemcellbeautyinnovations.com was featured on The Doctor's Show and was invited to introduce their newest and most effective placenta facial products to their audience. "The Doctor's Show is one of the most well respected and trusted shows that highlights the latest in health and beauty and we were honored to be asked to participate and introduce our placenta facial products" said Neal Gray VP of SCBI. SCBI produces an all-natural stem cell gold serum from sheep placenta that has been described as the "fountain of youth" by Simon Cowell and Victoria Beckham according to the Daily Mirror.
The placenta facial represents the latest in skincare to heal and de-age the skin.
SCBI products are used by top dermatologists, plastic surgeons and estheticians to help reduce fine lines and wrinkles, eliminate age spots, heal acne and reduce the inflammation associated with rosacea. The SCBI stem cell gold serum is the signature product that also speeds up the healing time after peel and laser treatments and helps to improve the results. The ingredients are all- natural and contain no chemicals or parabens. The SCBI stem cell gold serum is used in the placenta facial and the client takes home the product to use daily to help maintain the results.
About Stem Cell Beauty Innovations / SCBI LLC
SCBI LLC was created in 2010 with the main goal of formulating and distributing an all-natural line of skin care products that help to rejuvenate the skin. The products contain ovine placenta from sheep post birth so there is absolutely no harm to the animals. Other active ingredients include hyaluronic acid, chamomile, grape seed and 24 carat gold flakes. The SCBI products are manufactured in FDA registered labs in New Zealand. The Stem Cell Beauty Innovations products are certified and licensed by the New Zealand Government as well as world bodies.
SCBI products are cruelty free.
###
If you'd like more information about this product, or schedule an interview please call Neal Gray 310-471-1575 x 3 at or email at neal(at)scbinet(dot)com