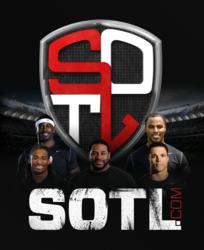 "Yes, because of how well the NFL is received in London," said McCourty. "It is a tough trip for the players, but well worth the experience."
Nashville, TN (PRWEB) November 13, 2012
SOTL.com, The Voice of the Players, polled more than 100 current and former NFL players about the opportunity to play more games in London with this week's player poll question:
"Is It a Good Idea to Have More NFL Games in London?"
While nearly 66% of the players polled say yes, it's time for the NFL to go global, 56% of NFL fans disagree.
New England Patriots Devin McCourty and Stevan Ridley recently traveled to London as part of the NFL's International Series where the Patriots served as the "road team" during the matchup with the Saint Louis Rams on October 28. The players commented on the poll question at SOTL.com as it relates to having more NFL games in London.
"Yes, because of how well the NFL is received in London," said McCourty. "It is a tough trip for the players, but well worth the experience."
"I think it is an awesome idea to be able to play there (London) because it lets you see how much other countries enjoy America's favorite sport," said Ridley.
Other NFL players agree, including Texans running back Ben Tate who said:
"Yes, it's a good idea because it brings more exposure to the sport outside of the United States," said Tate.
Of the players polled, 34% do not like the idea and say it's too tough on players. Steelers linebacker James Harrison is not a fan of the idea of having more games abroad with his comment on the site:
"No, there is too big of a time difference," said Harrison.
London is lobbying to get a permanent NFL franchise, and the league says it has strong financial prospects in England. That could mean more disruptive road trips at a time when players already are coping with a full slate of Thursday night games. And moving games -- or an entire franchise -- to London would take games out of a U.S. market, unless the league expands. While the majority of the NFL players polled agree it's time to go global, it's doubtful they'd be thrilled with playing multiple games throughout a season overseas.
For the full story and to read all the player comments, visit http://www.sotl.com.
More About School of the Legends / SOTL.com& SOTLTraining.com
SOTL.com was founded in 2009 as a social media and news site, an Officially Licensed Product of the NFL Players Association, and serves as "The Voice of the Players"™ with more than 2,500 current and former players contributing to the site. SOTL.com features weekly football and lifestyle blogs by dozens of NFL players and alumni, including Jerome Bettis, Barry Sanders, Patrick Peterson, Will Smith, Dwayne Bowe, Cliff Avril and others. SOTL.com is the player's site where they comment directly on football news stories of the day and contribute to exclusive player polls that give fans their perspective on the league's most important issues.
The sister site, SOTLTraining.com, is the premier online source for football training classes with the instructional video series "Legends in Training" that feature players such as Peyton Manning, Larry Fitzgerald and Tony Gonzalez to name a few as well as instruction from professional coaches and trainers. SOTL.com and SOTLTraining.com are official licensed partners of NFL Players, Inc.