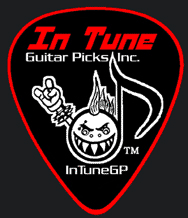 You do not have to be famous to have custom guitar picks. Hence their motto, "want to feel like a rockstar and be treated like one, join the InTuneGP family".
Onancock, VA (PRWEB) November 14, 2012
InTune Guitar Picks, Inc. was established in the year 2000 by current President Bert LeCato. Bert LeCato was a paid fire fighter who worked shift work and played guitar. Upon ordering custom printed guitar picks for himself, he found the quality and service to be sub-par. Working shift work gave Bert plenty of free time to figure out a process of making and printing custom guitar picks with a goal of providing an excellent product backed by quality service. Within several months from his unpleasant guitar pick ordering experience, he had inventory and specialty equipment ready to go.
Bert started InTuneGP in his garage and after two years the business grew to the point he needed help and a larger facility. In 2002 Bert added 2 employees to his staff and moved to a commercial location which allowed him to better serve his ever growing list of clients. In 2005, it was time for more equipment, a larger facility and a larger staff. Bert moved the business to a much larger facility, added even more equipment and today has a large staff in a large facility that is capable of handling the required space for manufacturing and printing millions of custom guitar picks a year.
InTuneGP now prints custom guitar picks for some of the biggest artist/bands around the globe across ever genre of music and has continued to offer custom guitar pick products direct to the consumer. Working directly with the consumer allows Bert and his staff to offer the great customer service they have become so known for. InTune Guitar Picks, Inc offers custom imprinted guitar picks in a variety of materials, shapes, colors and thicknesses and are consistently adding new products every year. InTuneGP offers their products with an extremely detailed and durable print and the staff is always ready to help ensure that the customer gets exactly what they are looking for. InTuneGP offers their personalized guitar picks for every occasion such as larger touring artists, bands in their garage, business cards, weddings, birthdays and much, much more. You do not have to be famous to have custom guitar picks. Hence their motto, "want to feel like a rockstar and be treated like one, join the InTuneGP family". As referenced above, InTune Guitar Picks, Inc. has become known as InTuneGP and their complete product list and ordering system can be found at http://www.InTuneGP.com