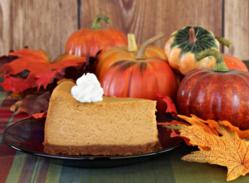 One slice is okay, but if you eat half of the pie, you might be addicted to carbs.
McAllen, Texas (PRWEB) November 15, 2012
According to a Gallup-Healthways poll released earlier this year the McAllen metropolitan area is the city with the most number of obese residents at a soaring 38.8 percent. Studies have since then been published on the increase of obesity rate amongst our children.
"The obesity problem in our US Latin communities is a problem of carbohydrate addiction," assures Frank Suarez, obesity and metabolism expert and founder of the NaturalSlim™ clinics in Puerto Rico.
"Our culture is used to eating rice and beans, tortilla chips, bread, and sodas. All of these foods will turn into glucose when you eat them and force the body to create a surge of production of the hormone insulin; it is this hormone that is responsible for the storage of fat," assures Suarez.
With the holidays coming up, the people of the Valley will be exposed to a variety of holiday specialties ranging from desserts such as flan, tres leches, pumpkin pies and buñuelos, to tamales and paellas which all fall under the carbohydrate category. According to Suarez's book The Power of Your Metabolism, it is these carbohydrates that have been refined and processed by the food industry which contribute to the epidemic we see in this area of the country and amongst all Latin communities.
In addition to the availability of foods rich in carbohydrates, sugars and fats, the added stress of the holidays has been known to lead to overeating which in turn causes more stress, obesity and according to the Mayo Clinic, depression. This statement, supported by William Dufty, author of the book Sugar Blues, suggests that an onset of possible depression and added stress will plague the people of McAllen this holiday season.
But what are the long-term consequences?
The Gallup study also noted that that those living in the McAllen area, compared to "skinnier cities" are more likely to also report diabetes, high blood pressure, and high cholesterol at some point in their lives.
"I am an ex-obese man," Suarez says. "I can relate to growing up with an abundance of foods which had me suffering all my life form the stigma of obesity. It was until I discovered the subject of the metabolism, that I was able to stop the yo-yoing and learn about how sugar and carbohydrates had me at a border-line pre-diabetic state."
For the holiday season he suggests that you gift yourself knowledge, preparation and the decision to adopt a new lifestyle.
"Knowledge is the gift that keeps on giving," he recommends; "there is no substitute for understanding how your body works and for how fat is truly created in the body. Get educated."