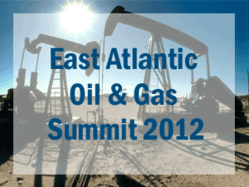 London, U.K. (PRWEB UK) 14 November 2012
International Research Networks is hosting the East Atlantic Oil & Gas 2012 Summit, on 3rd and 4th December in Lisbon, Portugal.
His Excellency, Taleb Ould Abdi Vall, Minister of Oil & Energy in Mauritania and former head of Societe Nationale Industrielle et Miniere (SNIM) will be present and speaking at the Summit, along with Tiago A. Sousa, the Chief of Cabinet of the Secretary of State for Energy in Portugal.
They will be joined by Ministers, senior officials and executives from the European and African East Atlantic region. The Summit will welcome speakers and delegates from the Ministry of Energy and Mines in Morocco, the National Energy Agency of Spain, the Portuguese Regulatory Authority for Energy Services, the Ministry of Oil and Energy in Mauritania, the Secretary of State for Energy of Portugal, Repsol YPF, Cairn Energy, Galp Energia, Circle Oil plc, Enagas, Observatoire Mediterraneen de l'Energie of France, Spec Partners Ltd, International Energy Agency, TGS, ONHYM Morocco, HIS Global Insight, Spectrum and other major players in the area.
The East Atlantic region has a promising future in the energy market; Spain, Portugal, Mauritania and Morocco all signed both onshore and offshore exploration licences. That means that substantial developments are happening which are going to form the Oil and Gas Industry in new ways. Subsequently, the aim of this summit is to display the new business opportunities in the industry and how they can be exploited by the interested parties.
The Summit will be held at the five-star Pestana Palace Hotel and National Monument, in Lisbon, a 19th century palace located near some of the most important monuments of the city, and is a must-attend event for all stakeholders with an interest in this expanding oil and gas market.
For more information and registration instructions for the Summit you can visit the following website http://www.eastatlanticsummit.com or contact directly the company.
Chryssa Tsouraki, Conference Producer
Telephone: +44 207 111 1615
Email: chryssat(at)international-research-networks(dot)com
​