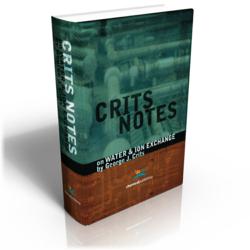 Boston, MA (PRWEB) November 15, 2012
Press Release from Chemical Publishing Company:
Crits Notes on Water and Ion Exchange
ISBN-13/EAN: 9780820601724
Author: George Crits
Chemical Publishing
Book - Hardback
Pub Date: Sept 2012
1074 pages
http://www.chemical-publishing.com
Chemical Publishing has taken the well known and now fully updated Crits Notes on Water and Ion Exchange and organized them into an encyclopedic style reference volume, with all charts and illustrations re-organized and redrawn, fully indexed and sorted into this valuable industry reference.
Listed alphabetically from A-Z, Crtis Notes on Water and Ion Exchange was put together with over 50 years of water treatment field service experience. George Crits has produced a full body of work on water treatment and ion exchange field maintenance which includes:

his compilation of field notes, charts, and formulas, for the water treatment professional.
real world examples, references and observations that are useful to the field service technician
contact listings of suppliers, including specific company products and prices, and how they stand up under actual industrial usage
field exercises and experiments that are useful to the professional working in the water treatment field
observations and tips that George Crits has made and compiled over his long career of over 50 years in the field of water treatment services.
A number of real world examples with charts, illustrate how to set up systems for different types of water treatment applications in the A-Z Reference manual.
George Crits has been serving in the water treatment field since 1950. His expertise is in water, wastewater treatment, and ion-exchange technology. He holds 13 U.S. patents and many more foreign ones (over 50 patents total), has contributed to three technical books, and has published or presented over 150 papers.
Available directly from the Publisher and all major online bookstores.