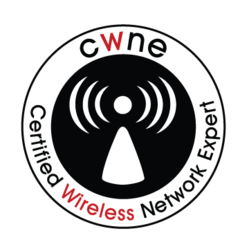 Durham, NC (PRWEB) November 15, 2012
CWNP is proud to announce its 100th Certified Wireless Network Expert (CWNE) certification! The process to become a CWNE is intense.

First, a candidate must pass four IT certifications from CWNP.
Then, present documentation and enterprise Wi-Fi implementation experience, three Wi-Fi projects, professional endorsements and other networking certifications to the CWNE program managers.
In 2010 a certification requirement was added that requires a CWNE to pass one of the upper level CWNP certification exams every three years.
David (Dave) Cook has gone through all of these for the achievement of the CWNE certification which was awarded to him on November 1st.
Dave Cook is a Wireless Pre-Sales Engineer for BT iNet in the UK. He has been CWNP Certified since 2004 and has worked with wireless technology since 2002. In addition to the CWNE certification Dave is also a Chartered IT Practitioner, a Chartered Engineer and holds a number of vendor specific accreditations.
CWNP, or Certified Wireless Network Professional, is the IT industry standard for vendor neutral enterprise Wi-Fi certification and training. They offer high-stakes, proctored certification exams and materials focused on 802.11 wireless networking technologies. CWNP has customers in over 150 countries and authorized training partners in all major global theaters.
For more information on the CWNE certification, and the other four certifications available, please visit http://www.cwnp.com
If you'd like more information about this topic, or to schedule an interview with David Cook, please call Julia Baldini at 866-438-2963 x204 or email Julia at Julia(at)cwnp(dot)com.