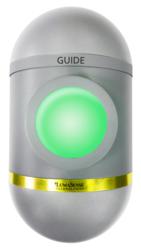 Transformers are becoming more stressed and are driven harder today ... combine that with the fact that many transformers are more than 35 years old, it's plain to see why it's so critical to install more online monitoring systems.
Santa Clara, Calif. (PRWEB) November 14, 2012
A recently completed survey suggests the electrical power industry is becoming more sophisticated at monitoring the performance of transformers, but still lacks cost effective alternatives to allow for a wide scale deployment of this monitoring. The targeted survey – conducted from March-June by LumaSense Technologies, Inc. – polled a small sample of power industry professionals from around the world. Among the survey insights:

Dissolved-gas analysis (DGA) is becoming a preferred and vital part of utilities' asset management strategies as many of them seek to protect and extend the lives of their aging transformer fleets. Nearly 95 percent of respondents said online DGA is important to their monitoring programs.
Utilities and transformer makers are transitioning to technology that measures increased types of gases, which indicates the industry is taking steps toward more-sophisticated monitoring philosophies. For instance, most respondents (nearly 70 percent) said they are driving toward multiple-gas analysis of DGA measuring three to nine gases, as opposed to hydrogen only or a total combustible-gas (TCG) reading. Hydrogen and acetylene were selected as the two most-important gases/readings when reviewing DGA results for transformer main tanks.
Utilities still lack cost effective alternatives needed to monitor the performance of their transformer fleets: Most respondents indicated that at least 75 percent of transformers in their fleets are not supported by online DGA monitoring, and 65 percent of respondents said they sample transformer oil for lab analysis – one of the more-traditional methods for transformer monitoring – only once or twice a year. Price, onsite service and support and technology used are the three most important factors when considering which online DGA technology to use.
"Many things can go wrong in a year, which reinforces why more utilities are looking for online monitoring solutions versus their typical annual lab analysis," Brett Sargent, LumaSense Vice President and General Manager, said in response to the data regarding oil sampling practices. "Transformers are becoming more stressed and are driven harder today. When you combine that with the fact that many transformers are more than 35 years old, it's plain to see why it's so critical to install more online monitoring systems."
LumaSense conducted the survey in support of the introduction of its SmartDGA line of online DGA products for Load Tap Changers (LTCs) and transformers earlier this year. Survey respondents confirmed that transformer DGA, winding hot spot and LTC DGA were considered the three most important elements to monitor on transformers. All three elements can be measured using LumaSense Technologies instruments.
Designed to help electric utilities augment condition-based maintenance for transformer and LTC fleets, the SmartDGA line includes three instruments: SmartDGA Gauge, SmartDGA Guard and SmartDGA Guide. The Gauge is designed to monitor dissolved gas within transformer LTCs and is the only dedicated LTC DGA monitor on the market. The Guard and
Guide are designed for online DGA monitoring of transformers. The entire line uses industry proven non-dispersive infrared (NDIR) technology to track gases, and is up to 50-percent less expensive than comparable solutions.
SmartDGA also represents the power industry's lowest total cost of ownership with up to 80 percent reductions, which allows utilities to reduce their asset monitoring budgets and capital expenditures while achieving widespread deployment across their transformer fleets – something that was previously unattainable.
Click here to download the full survey results. For more information, please visit: http://www.smartdga.com, or http://www.lumasenseinc.com
About LumaSense Technologies™
For over 50 years, LumaSense Technologies, Inc. (LumaSense), has provided innovative temperature and gas sensing instruments for the energy, industrial, clean technology and commercial markets.
Our unrivaled passion for excellence is why we have become one of the world's most trusted sensing solution provider. Through our precision engineered systems, our customers have gained control over their most difficult temperature and gas sensing challenges. Beyond providing the highest quality products, our customers turn to us, knowing our commitment to their success comes first. With expert application understanding and a growing portfolio of products, LumaSense can combine several technologies together into novel solutions even for the most complex environments.
With offices in Asia, Europe and the Americas, LumaSense is ideally positioned to serve the needs of the energy, industrial and clean technology markets worldwide. For more information about LumaSense Technologies, visit our website at http://www.lumasenseinc.com