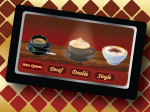 Campbell, CA (PRWEB) November 13, 2012
Amulet Technologies, a recognized leader in graphical user interface (GUI) solutions for embedded systems, today announced that it will be featuring the Capacitive 4.3" GEMmodule™ at Electronica 2012 in conjunction with partners Clicktouch NV and Cypress Semiconductor Corp. During the show, Amulet and Clicktouch will be offering a special promotion where customers will receive one free license of the embedded GUI software tool GEMstudio™ when they buy a Capacitive 4.3" GEMstarter-kit™. Each unit comes with an integrated LCD and graphics controller and includes everything needed to create and run a smartphone-like graphical user interface. Customers can start their projects with the capacitive starter kit STK-CY-043, build and test their graphical user interfaces, and then seamlessly move to production-ready Capacitive 4.3" GEMmodules™.
The capacitive 4.3" products incorporate Cypress's TrueTouch® technology and were developed in partnership with Cypress and Clicktouch NV, manufacturer of electronic input devices. TrueTouch provides the industry's best noise immunity, highest signal-to-noise ratio (SNR), fastest refresh rates, lowest power consumption, and the world's best accuracy and linearity.
About Amulet Technologies
As a recognized leader in high-performance embedded graphical user interface solutions, Amulet enables product designers to easily achieve smartphone-like interfaces on new and existing microcontroller based products. Amulet's innovative GUI development tools reduce development time down to days or weeks instead of months or years. This allows for the many design iterations that are required to create the most dynamic user experience possible. Amulet's Graphical OS™ includes a set of behaviors and functions that eliminate the need for expensive graphic libraries and tedious programming. Amulet's production solutions include fully-integrated modules, controller boards and chips which can be implemented in a wide range of applications, including medical, industrial, home appliance, etc. Visit Amulet Technologies online at http://www.AmuletTechnologies.com.
About Cypress
Cypress delivers high-performance, mixed-signal, programmable solutions that provide customers with rapid time-to-market and exceptional system value. Cypress offerings include the flagship PSoC 1, PSoC 3, and PSoC 5 programmable system-on-chip families and derivatives, CapSense touch sensing and TrueTouch solutions for touchscreens. Cypress is the world leader in USB controllers, including the high-performance West Bridge solution that enhances connectivity and performance in multimedia handsets, PCs and tablets. Cypress is also the world leader in SRAM memories. Cypress serves numerous markets including consumer, mobile handsets, computation, data communications, automotive, industrial and military. Visit Cypress online at http://www.cypress.com.