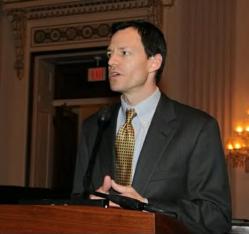 Evan Hirsche has a strong vision and track record of building support for public lands.
Fredericksburg, VA (PRWEB) November 14, 2012
Evan Hirsche, President of Wild Eyed Creative Services, LLC (WECS), a consultancy focused on implementing creative public engagement strategies in support of public lands, has joined the Marstel-Day Council of Advisors at the invitation of the company's president and founder, Rebecca R. Rubin. Ms. Rubin expressed her enthusiasm for Hirsche's joining the council: " Evan Hirsche has a strong vision and track record of building support for public lands through a variety of messaging, marketing and communications techniques in the conservation arena. He brings a new dimension to our ability to develop and communicate the company's natural resource conservation ethic and message."
Hirsche is a 23-year veteran in the wildlife conservation field, with extensive expertise in non-profit and campaign development and management. He has worked closely with federal conservation agencies and a diverse array of non-profit conservation interests. Throughout much of his career most recently as president of the National Wildlife Refuge Association, he has sought to build public and political support for the 150-million-acre National Wildlife Refuge System, partnering with diverse national conservation and recreational groups, and galvanizing the volunteer refuge Friends community around Refuge System needs.
Most recently, he played a pivotal role as the FWS's lead NGO partner in implementing the Conserving the Future Refuge System Vision process, which as been touted as the most transparent and among the most innovative federal decision-making processes ever.
He has also led campaigns to advance high-profile policy initiatives including restoration of wolves to Yellowstone National Park and protection of the Arctic National Wildlife Refuge from oil drilling, and has been quoted in numerous major media outlets. While at National Audubon Society, his award-winning Refuge System public service campaign reached millions of Americans through publications as diverse as Vogue, Fortune and Outside.
He is an avid outdoor photographer and triathlete, and also enjoys birding, scuba, fishing, ice hockey and getting outside with his family. He was born and raised in Williamstown, MA, and received a B.A. in Politics and Government and minor in English Literature from Ohio Wesleyan University in Delaware, OH.
Fredericksburg, Va.-based Marstel-Day is a woman-owned, small, certified HUBZone (Historically Underutilized Business Zone) business with multiple prime contract vehicles and additional offices in Oakland and Oceanside, CA; Alexandria, Va; Dallas, TX; and Stennis Space Center, MS. The firms' Advisory Council members include former Department of the Interior, Department of Defense, National Oceanic and Atmospheric Administration, and Environmental Protection Agency officials, as well as decorated experts in environmental security and climate change. The company has received many awards for its "green" approach to environmental services, including the Alliance for Workplace Excellence Eco-Leadership Award and the Tayloe Murphy Resilience Award from the University of Virginia emphasizing green ethics and commitment in areas of high unemployment and low income, as well as environmental business achievement awards every year for the past seven years from Environmental Business International. Marstel-Day has also been named to INC Magazine's list of the top 5000 fastest-growing business for the past four consecutive years.