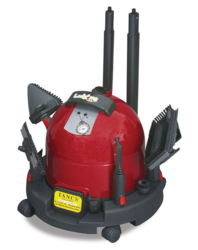 When equipped with Ladybug's optional TANCS® technology, the XL2300 steam cleaner qualifies as a disinfection device for the EPA.
Lake Forest, Illinois (PRWEB) November 14, 2012
With Thanksgiving around the corner, it's almost time to start thinking about holiday shopping. And according to a leading nationwide marketer of Ladybug steam vapor sanitization systems, there's no better gift than the gift of health.
To encourage shoppers to ditch their toxic household cleaning products, many of which are linked to cancer, 1-800-GO-VAPOR.com announced today that consumers who purchase a chemical-free Ladybug steam vapor sanitization system for themselves or as a gift this holiday season will receive a free accessory set valued at $30.
"Ever wonder what's in those cleaning products cheerfully lining grocery store shelves?" asks V. K. Dunlop of 1-800-GO-VAPOR.com. "You won't learn a lot looking at the labels."
That's true because manufacturers of household cleaners are not required to list ingredients, so what you often see instead is vague descriptors like 'dye' or 'fragrance.'
But many cleaning products contain chemicals that are unsafe for human health.
According to Dunlop, there are over 82,000 chemicals currently used in the U.S. in everyday products, and only 200 of these have been tested for safety. Meanwhile breast cancer, autism, asthma, reproductive disorders and other health problems linked to chemicals are on the rise.
Dunlop uses shower cleaning as an example.
"Scrubbing the shower is one of the most dangerous jobs you do around your home," she says. "You probably wear latex gloves, use a bathroom cleaner with bleach from your local supermarket, and keep the window open to avoid the fumes. Those fumes are dangerous to anyone who inhales them."
Part of the problem is that a many people looking to 'go green' have no idea where to start.
To help shoppers make the switch this holiday season to green cleaning and steam vapor systems, 1-800-GO-VAPOR.com has extended its telephone hours. Shoppers can reach a live sales representative 7 days a week from 7:00 a.m. to 11:00 p.m. CST.
When equipped with Ladybug's optional TANCS® technology, the Ladybug 2200S steam vapor sanitization system and the popular Ladybug XL2300 steam vapor sanitization system qualify as disinfection devices for the U.S. Environmental Protection Agency.
"A Ladybug steam cleaner is a holiday must-have waiting for you online and in our Chicago-area showroom," says Dunlop.
According to Benjamin Tanner, president of Antimicrobial Test Laboratories, "The TANCS® System has shown extraordinary results in laboratory tests. A 99.9999% reduction of MRSA and VRE on surfaces within 5 seconds is a level of performance that chemical disinfectants may never achieve."
Located in Lake Forest, Illinois, 1-800-GO-VAPOR.com is moving fast to educate consumers and businesses that finally, there's a feasible, environmentally friendly alternative to chemicals. With customers in every state in the nation and seven foreign countries, the company maintains an A+ rating with the Better Business Bureau and markets Reliable, Vapamore and Ladybug steam vapor sanitization systems worldwide. For more information, call 1-800-468-2767. 1-800-GO-VAPOR.com is a proud member of the Safer Chemicals, Healthy Families coalition, a nationwide effort to protect families from toxic chemicals. To stay safe and avoid toxic chemicals, keep abreast of the latest news with 1-800-GO-VAPOR.com's Twitter account, @1800GOVAPOR.