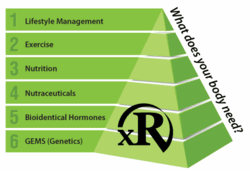 xR's METHOD can be conceptualized as a rapid correction of estrogen and progesterone balance to not allow a patients' brain to fall into the abyss of the migraine process.
PRWeb (PRWEB) November 28, 2012
"I started having visual disturbances in my peripheral vision at work. I knew it was the start of a migraine," said Pat Pendry, a migraine sufferer. "I went to my desk and put a hormone drop under my tongue and my peripheral vision cleared and the headache just left. It's a miracle as far as I'm concerned. My migraines aren't as debilitating as some people have, but I'm miserable for two days and the second day I have a hangover from the first day."
George W Rozakis MD, medical director of xR states, "we have been balancing hormones and biochemistry for years to prevent migraine, but this is the first time we have used hormones to stop a migraine once it starts. It is very exciting as we continue to unravel the many causes of migraine."
"The METHOD (Migraine Elimination by Titration with Hormone via Oral Deliver) is the rapid correction of estrogen and progesterone balance to prevent the patient's brain from falling into the abyss of the migraine process," according to Dr. Brian Bakke, xR's Chief Scientific Officer. "The ratio between progesterone to estrogens has a profound impact on the start of a hormonal migraine. By placing the correct hormone under the tongue we were consistently able to eliminate the migraine once it starts."
The METHOD does not work every time, says Dr. Emhof, medical director of xR in Tallahassee Florida. However, if hormonal imbalance is your migraine trigger, then our experience is showing that it can quickly be resolved. When it does not work, that signals that the patient's problem is not hormonal imbalance but rather other causes, such as genetic errors, that need to be identified and managed."
Company Information: xR specializes in the application of genetics, bio-identical hormones, methylation science, nutraceuticals, and nutritional recommendations to manage the underlying cause of disease. When "xR" is combined with the traditional medicine "Rx" model, a wide range of illnesses benefit in all age groups especially patients over the age of 40 when the aging process accelerates.
For more information visit http://www.xrmd.com