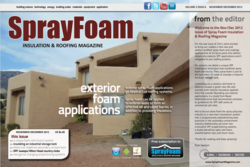 We've swiftly established ourselves as the leading digital publication in the spray foam industry
Jupiter, FL (PRWEB) November 14, 2012
Spray Foam Insulation & Roofing Magazine is excited to announce its November/December 2012 issue. Readers across the globe can now access the latest edition for free online or via the publication's array of apps for Apple iOS, Google Android and Amazon Kindle Fire devices.
SFIRM presents its eighth issue with a distinct focus on exterior spray foam applications, which include much more than oft-highlighted spray foam roofing systems. Indeed, spray foam can be applied to vertical exterior surfaces and provide a building–residential, commercial or industrial–with an effective air and vapor barrier, as well as robust insulation.
Highlights of the November/December Issue:

Safety guidelines for exterior applications are reevaluated
An exterior foam and stucco system sweeps the Southwest
A massive industrial storage tank is insulated in Iowa
Spray Foam insulates a 100-year-old home in Canada
RoboLiner revolutionizes polyurea secondary containment
Hilton Head country clubs find savings with SPF
Co-generation technology is a boon for spray rig efficiency
Low-pressure foam system benefits from new proportioner
A busy California gas station is re-roofed with spray foam
SucraSeal goes exceeds being green and code-compliant
Weatherization tips with low-pressure foam from Fomo
FTC's presents new Green guides for marketing
A Major Milestone
Spray Foam Insulation & Roofing Magazine is proud to report a verified readership of 20,000. This readership milestone (currently at 21,015 as of writing) was reached not long after the release of the magazine's seventh issue, just over a year since its debut in September of 2011. The magazine's growth is directly attributable to its distinct positioning as a 100% digital publication.
"We've swiftly established ourselves as the leading digital publication in the spray foam industry," said Ryan Spencer, SFIRM's Editor-in-Chief. "Between our web platform and our mobile apps, it's just so easy for new readers to subscribe and for current readers to keep coming back."
Furthermore, the digital publishing medium allows SFIRM to establish a verified, or audited, readership, which means the publication can measure exactly how many readers are flipping through its pages. This is unparalleled in printed publications, which can only attain readership estimates with varying degrees of accuracy. Also, digital publication facilitates a virtually infinite lifespan for the magazine's articles and advertisements.
About Spray Foam Insulation & Roofing Magazine:
Spray Foam Insulation & Roofing Magazine is targeted to a global audience of building construction professionals and energy-conscious readers. It is distributed bi-monthly to applicators, manufacturers, distributors, specifiers, general contractors, architects, engineers, and managers in both the public and private sectors. For more information, or free instant access, please use the provided contact details.