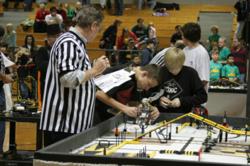 It's the Hardest Fun You'll Ever Have!
Grandville. Michigan (PRWEB) November 14, 2012
The Grandville High School Robodawgs, and the Grandville Academic Team Boosters will host their annual Regional Qualifying Lego League Tournament on Saturday, November 17 at Grandville High School (4700 Canal, Grandville). The event will start at 9am, with robot competition and judging taking place through 3:00pm. The awards ceremony will take place at 3:15pm. Over the last six years, this event has grown from a handful of teams to the largest event of its kind in Michigan. More than 2,500 students, parents, and spectators are expected to attend this year's tournament.
This tournament, held at Grandville High School, will bring together 44 teams from all over Michigan. These teams of fourth through eighth grade students will compete for the right to advance to the Michigan State Tournament in December. Teams will bring student-built robots to compete on the "Senior Solutions" playing field. Their robots and programming will be reviewed by technical judges. Teams will make research presentations, sharing the results of their research into issues active senior citizens face and their solutions to those problems. Teams will also compete in challenges designed to test their teamwork.
In the 2012 SENIOR SOLUTIONS Challenge, teams of elementary and middle school students explore the topic of aging and how it may affect a person's ability to maintain his or her lifestyle – solving issues like getting around, keeping in touch, or staying fit. In the Senior Solutions Challenge, teams build, test, and program an autonomous robot using the LEGO® MINDSTORMS® NXT to solve a set of Senior Solutions missions. They also research, develop, and share innovative solutions to specific issues faced by senior citizens in their communities. For more complete information on this year's Lego League Challenge, visit: http://firstlegoleague.org/challenge/2012seniorsolutions
This year's event will also include West Michigan's only showcase for Junior Lego League teams made up of second and third grade students. In the 2012, SUPER SENIORS Challenge, teams learned about simple machines as they built a model made of LEGO® elements with a motorized moving part and created a team Show Me Poster to represent their findings.
Lego League introduces elementary and middle school students to real-world engineering challenges by building LEGO-based robots to complete tasks on a thematic playing surface. Lego League teams, guided by their imaginations and adult coaches, discover exciting career possibilities and, through the process, learn to make positive contributions to society. Lego League team members get to:

Design, build and program robots using LEGO MINDSTORMS® technology
Apply real-world math and science concepts
Research challenges facing today's scientists
Learn critical thinking, team-building and presentation skills
Participate in tournaments and celebrations
The Grandville High School RoboDawgs are one of the United State's largest and most accomplished high school robotics teams. Grandville Public Schools has been a leader in educational robotics for more than 15 years. Beginning with one high school robotics team in 1998, the district's program has now grown to include more than 30 teams based at the District's new Robotics & Engineering Center. More than 500 students, from fourth through twelfth grades, participate on Grandville robotics teams, designing, building, and programming robotics for competitions around the world. Grandville has one of largest Lego League programs in the country, with the District fielding 18 teams this year. These students go on to compete in the District's VEX Robotics program at the middle school level, as well as the FIRST Robotics competition and the Great American River Race at the high school level.