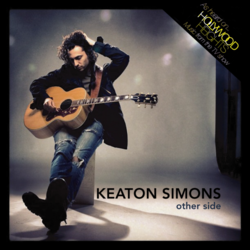 "…He sounds like a polished pro, not a raw newcomer, with enough sound and charisma to fill an arena." – The Los Angeles Time
Los Angeles, CA (PRWEB) November 13, 2012
Los Angeles-based singer/songwriter Keaton Simons is releasing two highly anticipated new singles. As featured on the TeenNick series Hollywood Heights, Simons' powerful, blues-drenched track "Lift Me Up" has just been released, and the compelling, enigmatic single "Other Side" will be available everywhere November 13th.
Simons has worked with such notable acts as Gnarls Barkley, Black Eyed Peas, Jason Mraz, Hanson and Snoop Dogg among others, and has opened for Coldplay, REO Speedwagon, Pat Benatar and Train. Simons' songs have been heard in dozens of feature films and television shows, including NCIS, Numb3rs, Malcolm in the Middle, Crash, and now the hit TeenNick show, Hollywood Heights. Simons has also produced music with Mikal Blue (Colbie Caillat, One Republic), The Matrix (Avril Lavigne, Liz Phair) and David Bianco (Tom Petty, Bob Dylan).
"Other Side" and "Lift Me Up" showcase Simon's depth and richness of artistry - similar to legendary songwriters like John Lennon and Bob Dylan combined with bluesy, masterful guitar playing reminiscent of early Eric Clapton and an unmistakable, soulful voice that evokes vocal greats like Ray Charles.
Simons has released albums both independently and through major labels, most recently 2008's Can You Hear Me on CBS Records. As 2012 comes to a close, Simons prepares to take to the road to showcase his abundant collection of tunes, and putting the final touches on a new studio album (co-produced by Mikal Blue, who has also worked with Colbie Caillat and One Republic) for 2013.
"…a 'triple threat.' He can write compelling songs, sing with a distinctive, soulful voice and play guitar with skill and ferocity. He sounds like a polished pro, not a raw newcomer, with enough sound and charisma to fill an arena." – The Los Angeles Times.
For additional information, please visit http://www.keatonsimons.com/