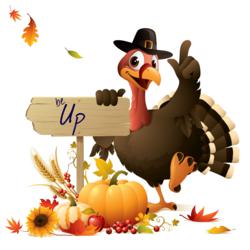 Be Up and Be Thankful
(PRWEB) November 14, 2012
The UpReport.com is celebrating the giving season by adding a Thanksgiving Up News section to the Front Page. People are in the giving mood and the UpReport.com is celebrating their generosity by bringing their stories to the Front Page.
For the last half of November, the UpReport.com will have a special focus on positive Thanksgiving news. The Thanksgiving Up News section will be updated daily with the latest good Thanksgiving news stories and articles. This will include charity events, care packages being sent to troops and efforts to help and support communities.
If you have a positive Thanksgiving news story send it to the UpReport.com. On the Front Page of the UpReport.com there is a form to send in news stories. Receiving news stories from our readers has been a great way to keep the UpReport.com on the cutting edge of good news and to keep in touch with readers.
Thanksgiving is a fun time of the year to be with family and friends. It is also a great time to get out and give something back. The UpReport.com will be looking for good and positive Thanksgiving news stories and articles this month, while staying true to our mission: to bring positive and happy news to the forefront of media. The UpReport.com does this while bringing you the best in positive news, updated continuously throughout the day, from a diverse set of sources.