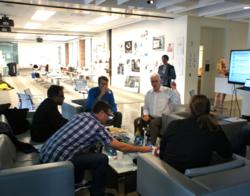 New York, NY (PRWEB) November 14, 2012
With submissions arriving from all over the world and four competitions to judge, Spark was a busy scene during their recent jury week. "It was a recipe for chaos" said Spark founder, Peter Kuchnicki, "But somehow it all came together beautifully. Our team of volunteers, led by Spark Special Events Manager, Claire Woolf, juggled all the loose ends and made it happen."
The Spark Design Awards are a series of competitions that encourage and honor designs that make the world a better place. First held in 2007, the awards are focused into four competitions per year. Spark:Product is for industrial designs that are built, produced, built on "spec" or as part of a proposal, or is in pre-production, with commercial intent.
"In 2012, we had 144 submissions, ranging from high-tech electronics to very well thought-out products for healthcare," said Clark Kellogg, Spark advisor. "Our top vote getter was 'See Better to Learn Better' by Yves Behar, Founder/Chief Designer of Fuseproject in San Francisco. It's a free eyeglasses program for children in partnership with the Mexican government and Augen Optics. The eyewear is rugged, customizable and fun and the Spark jurors loved them. Honors also go out to Whipsaw Design, which secured an incredible 9 awards ranging from Spark! to Bronze."
The Spark:Product Jury was chaired by Hari Nair, Global Design Director for Whirlpool Corporation. The jurors chose 55 winners, including 8 top Spark! Awards, 11 Golds, 15 Silvers and 22 Bronzes. In addition, there was a Spark! and a Silver in the non-profit category and 1 student Gold. Thirteen countries were represented, with US and Holland submitting the most designs.
The highest award in Spark:Product is called the Spark!. Winning designs were:
See Better to Learn Better
Ion Proton™
Nurture Pocket
GE Residential WattStation
Tesla Model X
Eton FRX Field Radio Line
Philips Sonicare Airfloss HX8111
SPARK WINNERS PANTHEON
Spark! See Better to Learn Better Yves Behar fuseproject
Spark! Ion Proton™ Lance Hussey RKS
Spark! Nurture Pocket Nurture and Modo Design Teams Modo, Inc.
Spark! GE Residential WattStation Yves Behar fuseproject
Spark! BLOOM Doris Sung DOSU Studio/USC
Spark! Tesla Model X Franz von Holzhausen Tesla Motors
Spark! Eton FRX Field Radio Line Dan Harden Whipsaw, Inc.
Spark! Sonicare Airfloss HX8111 Consumer Lifestyle Design Team Philips
Gold Nook Simple Touch Robert Brunner Ammunition
Gold Verb Steelcase Design Steelcase
Gold Barnes & Noble NOOK Tablet Yves Behar fuseproject
Gold Generator G11 User Experience Design Team Smart Design
Gold Smartstreets-Cyclepark™ Andrew Farish and Chris Garcin Smartstreets Ltd
Gold beats by Dr. Dre Beats Mixr Robert Brunner Ammunition
Gold Cambium RDB 350 Bridget Soldan Optimal Design
Gold Big Jambox by Jawbone Yves Behar fuseproject
Gold Dropcam Camera Dan Harden Whipsaw, Inc.
Gold Eton Rukus Bluetooth Stereo line Dan Harden Whipsaw, Inc.
Gold PRIMALx7 PRIMALx7 and PDT: Design Teams PDT
Silver QiVi Steelcase Design Studio and Brodbeck Design Steelcase
Silver Speedphone 500 Deutsche Telekom Product Design Deutsche Telekom
Silver Eton Turbodyne Series Dan Harden Whipsaw, Inc.
Silver Livescribe Echo Smartpen Dan Harden Whipsaw, Inc.
Silver Fight Malnutrition Design Innovation Team Philips
Silver mySentry Uli Rankers Medtronic, Inc.
Silver Theravent Snore Therapy Matt Durack LUNAR
Silver Altec Lansing inAir 5000 Altec Lansing and Essential Teams Essential
Silver Sabi Yves Behar fuseproject
Silver OXO Tot Youth Booster Seat Design Team Smart Design
Silver Sonicare DiamondClean Toothbrush Consumer Lifestyle Design Team Philips
Silver Pyrex No Leak All Glass RDD&E Design Team World Kitchen LLC
Silver Beats by Dr. Dre Executive Robert Brunner Ammunition
Silver Diffrient Smart™ Task Chair Niels Diffrient, Shea + Latone Humanscale Design
Silver Palatometer John Omdahl Rocketship
Bronze Apnicure Winx Dan Harden Whipsaw, Inc.
Bronze KitchenAid Pro Line Toasters Design Team Whirlpool Corporation
Bronze Minna Ola Akbar Dhanaliwala Minna Life
Bronze Swivl by Satarii Jochen Backs Studio Backs
Bronze Defibtech Lifeline VIEW AED Gintaras Vaisnys Defibtech
Bronze bobble jug Richard Smiedt Move Collective LLC
Bronze TP-Link N Router Line Dan Harden Whipsaw, Inc.
Bronze Element Disc™ LED Light Design Team Humanscale
Bronze SodaStream SOURCE Yves Behar fuseproject
Bronze LOCAL bicycle Yves Behar fuseproject
Bronze Goal Zero, Power Anywhere John Omdahl Rocketship
Bronze JAC< Design Team Doci Springtime
Bronze InfiniteZ zSpace Dan Harden Whipsaw, Inc.
Bronze Zero Technologies Computer Dan Harden Whipsaw, Inc.
Bronze Gretchen - Tango Pouch Anne-Christin Schmitt MiAna Accessories
Bronze Sparq Ultrasound Healthcare Design Team Philips
Bronze AVENT manual breast pump Consumer Lifestyle Design Team Philips
Bronze MiniDock Dominic Symons Bluelounge
Bronze Sumo Dominic Symons Bluelounge
Bronze Stagesource L3t Audio Speakers Ravi Sawhney RKS
Bronze Wikipad Tablet and Gaming Console Ravi Sawhney RKS
Bronze Eames Aluminum Group Outdoor Susan Lyons Herman Miller
Non-profit Winners
Spark! Firefly Phototherapy William Harris Design That Matters Non-Profit
Silver CityBench Ignacio Ciocchini Chelsea Improvement Company Non-Profit
Student Winners
Gold Animal Stackers Design Team Stanford University Student
WINNERS IN NEXT SPARKBOOK
The winners of these Awards will become the stars of the next Spark Design Awards Annual, to be published next year. The 2011 Awards edition was recently published and is available at Amazon.
More information about this organization and these competitions can be found at the Spark website landing page at http://www.sparkawards.com
Spark is proudly sponsored by Autodesk, Core77, ArchNewsNow, Archinect, Bustler, Pluo Consulting and RIOT Creative Imaging.