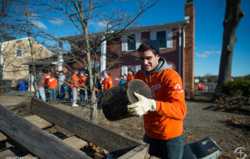 ikan Corporation's CEO, Kan Yeung: "It's an honor to support an organization whose ongoing mission is to quickly aide these and other disaster victims during their times of need."
Houston, Texas (PRWEB) November 14, 2012
ikan Corporation today announced the kickoff of a "November to Remember" campaign designed to raise funds in support of Hurricane Sandy relief efforts now underway by Samaritan's Purse in New York and New Jersey.
Hurricane Sandy slammed into the East Coast on October 29th bringing with it a wall of sea water and 90 mile per hour gale force winds. At over 500 miles wide, Sandy is described as the largest Atlantic Hurricane on record. So far over 100 people have lost their lives and hundreds of others are homeless in the wake of this devastating storm.
Within a few days of the Sandy's landfall, Samaritan's Purse responded to the tragedy with a team of volunteers eager to help those devastated by the super storm. Volunteer crews are working alongside homeowners in ravaged neighborhoods in an effort to give comfort and help rebuild.
For over 40 years the mission of Samaritan's Purse has been influenced by the Biblical account of the Good Samaritan who helped a stranger in need. Acting on the command by Jesus Christ to "do likewise" Samaritan's Purse is rising to the challenge.
Samaritan's Purse is helping residents in three locations in New Jersey and one in New York. They have set up bases in Atlantic, Ocean and Bergen counties in New Jersey and are stationed in New York's Nassau County. The priority for the next several months for over 1,000 ministry volunteers will be to help low-lying, low-income areas with tree & debris removal and mud-outs. These are the first steps needed to move people out of shelters and back into their homes.
Chaplains from the Billy Graham Rapid Response Team are also on site helping to assess the situation, find people in need, and provide spiritual comfort.
As these communities struggle to rebuild, ikan is committed to supporting Samaritan's Purse financially and through prayer. We encourage others to do likewise.
Starting today, for every ikan light or light kit sold during November, ikan will take a portion of the proceeds and make a generous donation to Samaritan's Purse to help fund ongoing recovery efforts.
We invite you to join us and be the light at the end of a very dark tunnel for our East Coast neighbors. We encourage direct donations to Hurricane Sandy relief efforts by visiting the Samaritan's Purse website at http://www.samaritanspurse.org.
To learn more about ikan visit:
Website: http://www.ikancorp.com
Facebook: [http://www.facebook.com/ikanseeit
Twitter: http://www.twitter.com/ikancorp
About ikan Corporation
ikan designs and manufactures digital video and DSLR gear used by independent filmmakers, videographers, and professional photographers for use around the world.
###