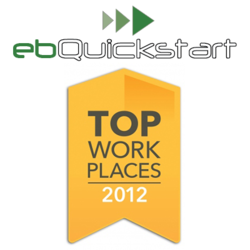 I feel like my contributions mean something and look forward to helping ebQuickstart continue to grow over the coming years. - Curtis Hartman, Lead Generation Manager
Austin, Texas (PRWEB) November 14, 2012
ebQuickstart, LLC, a technology sales and marketing company, announced today that it has been recognized by the Austin American Statesman as a 2012 best company to work for in Austin, Texas. This marks the second consecutive year ebQuickstart has won the award. The company placed #13 in the Small Business category back in 2011. WorkplaceDynamics LLP, designed and conducted the anonymous surveys, analyzed the results and came up with the list of the top 85 Austin-area employers, grouped in three categories based on the number of employees.
"Since the evaluation for this award is based upon the feedback and assessment of our own ebQuickstart employees, it is a significant achievement," said Timothy Edwards, ebQuickstart's President and CEO. "Our dedication to our employees and their workplace environment makes a difference in the quality of people that we can retain, and in turn, the quality of service that we can offer to our customers. Lower turnover means better-trained employees. Better-trained employees are more successful at nurturing our customers' prospects, building sales pipelines and protecting their brand in the marketplace."
"I am excited to be a part of ebQuickstart," stated Curtis Hartman, a Lead Generation Manager. "Since joining the company in 2010 as a Lead Generation Specialist, I have been provided with on-the-job training necessary to move into a management role. I feel like my contributions mean something and look forward to helping ebQuickstart continue to grow over the coming years."
ebQuickstart, established in 2006, has experienced a surge in awards and nominations for 2012. This year alone, the company ranked #655 in the Inc. 5000 list of fastest-growing private companies in the U.S. and #15 in the Flyover 50, which recognizes the fastest-growing businesses in the Midwest. The Austin Business Journal also recently named ebQuickstart a 2nd fastest growing company in central Texas during their October 2012 Fast50 awards ceremony.
"We credit our success to our employees and work to demonstrate our appreciation for them," stated Timothy Edwards. "We believe in internal promotion and providing upward mobility to our employees. We strive to create a meritocracy that provides a great environment for our employees and a great service to our customers." The company offers a growth environment to its employees, pays 100% healthcare and life insurance while also matching retirement.
ebQuickstart, LLC provides technology companies with a full spectrum of Sales & Marketing services. The company takes a unique approach to meeting specific needs by creating specialized, fractional villages that are dedicated to specific client initiatives. ebQuickstart specializes in B2B appointment setting and lead generation, building and cleaning databases, and providing an array of a-la-carte marketing services and campaign assistance. It also offers sales villages to take deals to close, and customer service support teams to assist businesses with the maintenance & renewal efforts of existing customers.