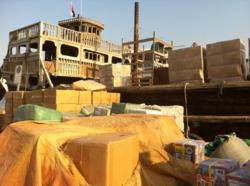 Baltimore, MD (PRWEB) November 16, 2012
Oil & Energy Daily's, Karim Rahemtulla, reports that he has successfully chartered a small craft and is navigating from the Gulf of Oman, through the Strait of Hormuz, and into the Persian Gulf on a fact-finding mission across the most important – and most imperiled – oil route in the world.
With gunfire erupting throughout the Middle East, imperiling Israel, the Gaza Strip and West Bank, oil prices are on the rise and the world is preparing for a round of military conflict.
Indeed, what happens in the Middle East has dire ramifications for the Western world. And that's why Oil & Energy Daily's Investment Director, Karim Rahemtulla, has decided – at great personal risk – to investigate the region himself.
Having obtained the services of a small craft, Rahemtulla is currently posing as a fisherman, navigating the Persian Gulf and the Strait of Hormuz.
The Strait of Hormuz accounts for 20% of the world's oil supply flow on any given day. Less than 21 miles across at its narrowest point, the Strait is a strategic bottleneck bordered by the Islamic Republic of Iran and the sultanate of Oman. A disruption in the area could lead oil prices to spike as high as $150 a barrel in New York and $200 a barrel in London.
That is why the many risks didn't dissuade Rahemtulla who is well-versed in local languages and customs. He reports disguising himself as a fisherman to access these waters that remain forbidden and unknown to most Westerners. Gaining access was only the first of many challenges faced by Rahemtulla. These waters are notoriously fraught with danger. Sea mines, patrol vessels from the U.S. Navy and the navies of Iran and other Gulf states, and military aircraft are ever-present concerns.
Rahemtulla and his team provide full-spectrum coverage of the most compelling global oil, energy and resource opportunities available to investors. Through boots-on-the-ground, intelligence-gathering efforts such as this one, he aims to draw attention to new strategic opportunities emerging in the region.
Text of the full article is available on the Oil & Energy Daily website:
http://www.oilandenergydaily.com/2012/11/14/live-from-the-strait-of-hormuz/