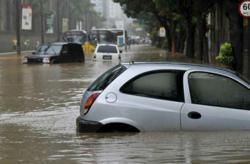 Salvage operators and dealers may try to conceal the fact that a car has been damaged, leaving potential buyers as potential victims of a bad deal.
LINCOLN, RI (PRWEB) November 14, 2012
Buying a used car? Amica Insurance reminds consumers to make sure any vehicle they are buying was not damaged during Superstorm Sandy.
Some government and consumer protection agencies are warning that cars that were declared total losses after the storm could begin showing up in used car dealerships and salvage yards.
"That's the danger after a storm of this magnitude," said Shannon O'Brien, an assistant vice president with Amica Insurance. "Salvage operators and dealers may try to conceal the fact that a car has been damaged, leaving potential buyers as potential victims of a bad deal."
The National Insurance Crime Bureau is promoting a free consumer protection service called VINCheck to help identify cars that may have suffered from flood damage or other damage prior to being sold. The service was created seven years ago, when hundreds of thousands of vehicles were damaged in Hurricane Katrina.
NICB maintains a log of cars that have been declared a total loss by more than 1,100 participating insurance companies, as well as damage logged into the National Motor Vehicle Title Information System. Consumers can use VINCheck to determine whether a vehicle has been declared as salvage. The free service is available at nicb.org.
The National Automobile Dealers Association also noted that consumers may not be aware that a car suffered water damage in the storm since some problems may not surface for months.
That's why it's important to beware that "nefarious individuals may buy these vehicles, thoroughly clean them and attempt to resell them," the NADA release states.
"The amount of damage depends on how long a vehicle has been submerged and how deep," according to NADA Chairman Bill Underriner. "A good rule of thumb is to take caution if a vehicle's carpets have been wet for an extended period."
NADA offers these tips to help consumers identify cars that may have been damaged:

Check the title history of the vehicle by running it through a commercially available service or the National Insurance Crime Bureau's VINCheck to see whether they have been reports of flood damage.
Check the engine compartment, door panels and under the rugs inside the vehicle for signs of water and grit from submersion, as well as water residue and rusting.
Inspect the dashboard, trunk, carpets and upholstery for signs of dried mud and residue, as well as any mold or musty odors.
Look for rust on screws on the console or other areas that normally wouldn't come in contact with water, unless submerged. Check the wiring system for rusted components, water residue or corrosion.
Check the undercarriage of the car for signs of rust and flaking that aren't normally present in late-model cars.
"When in doubt, have the vehicle checked out," Underriner urges. "Your safety and your family's safety are far too important to risk."
About Amica
Amica Mutual Insurance Company, the nation's oldest mutual insurer of automobiles, was founded in 1907. The company, with corporate headquarters in Lincoln, RI, is a national writer of automobile, homeowners, marine and personal umbrella liability insurance. Life coverage is available through Amica Life Insurance Company, a wholly owned subsidiary. Amica employs more than 3,100 people in 40 offices across the country.
CONTACT: Vince Burks, Corporate Communications, 50 Amica Way, Lincoln, RI 02865-1155, 800-652-6422, ext. 24563.
Twitter: Amica
Facebook: Amica Mutual Insurance Co.