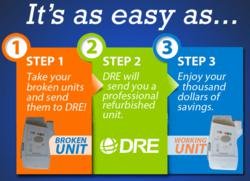 "If facilities are looking to avoid the next wave of cost, DRE's exchange program will allow them keep a balanced budget and eliminate training costs and chaos with new technology."
- Matt Cameron, Biomedical Services Director
Louisville, Ky. (PRWEB) November 13, 2012
DRE's new telemetry transmitter exchange program gives our customers the option to send in their used transmitters and receive a fully refurbished transmitter in return. DRE's team of biomedical engineers guarantees that each refurbished transmitter has been returned to maintenance of effort (MOE) standards and quality.
"Hospitals are losing or damaging telemetry transmitters all the time. They need someone reliable to immediately and continuously replace the units at a reasonable cost," DRE Biomedical Services Director Matt Cameron said. "If facilities are looking to avoid the next wave of cost, DRE's exchange program will allow them keep a balanced budget and eliminate training costs and chaos with new technology."
DRE offers the Philips M2601A, M2601B and M4841A transmitters, along with our existing stock of professionally refurbished Philips Telemon and Intellivue patient monitors. DRE has access to the parts for these models, allowing us to provide a quick turnaround. Your facility can save thousands with exchange in comparison to purchasing new technology provided by the manufacturer.
"The exchange program was a common sense addition because we've been dealing with monitoring for years," Justin Jeffries, DRE marketing manager, said. "There are not many options in the market for this service, so it fills a need for hospitals. We keep them running with current technology without large capital investment."
About DRE, Inc.
DRE, Inc. is a premier medical and surgical equipment supplier that provides a combination of new and professionally refurbished or used medical equipment to industry professionals around the globe. DRE offers value to doctors by providing the features and reliability they need while still fitting within their budget.