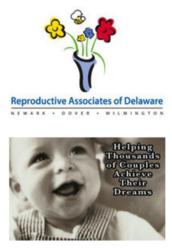 "Our lab's observations and results point to increasingly safer and more efficient IVF outcomes"
Newark, DE. (PRWEB) November 14, 2012
"Most IVF centers do not observe or freeze blastocyst embryos as late as day 7 after the egg is fertilized, so we're very progressive in that respect," said RAD Lab Manager Stacy Carney. As noted in Carney's presentation, most clinics do not consider embryos for cryopreservation beyond day 5 or 6 of development because of added workload and perceived marginal returns on pregnancy rates. "There is a subset of patients who may not have viable embryos on day 5 or 6, so by continuing observation until day 7, we often identify healthy embryos for cryopreservation," added Carney. In other centers, patients without developed embryos by day 6 must typically complete a second fresh IVF cycle for a chance of pregnancy. By freezing healthy day 7 embryos, patients may avoid this second cycle. "Our approach creates the opportunity for potential pregnancies not typically offered at other clinics," commented RAD Lab Director, Linda Morrison.
Along with Carney's presentation, two additional RAD abstracts were chosen for the conference. Embryologist Caitlin Boylan presented results demonstrating a high rate of overnight survival in previously frozen and newly biopsied embryos. These findings open the door to safe chromosome testing and highly efficient single embryo transfers for previously frozen embryos. RAD's poster presentation, by lead investigator Katharine Shelly, focused on assessing the validity of in-house genetic screening technologies. "We are very fortunate to have our research chosen for presentation. This reflects well on RAD and helps us offer state-of-the-art lab options for our patients," stated Shelly.
"Our lab's observations and results point to increasingly safer and more efficient IVF outcomes," noted Dr. Ronald Feinberg, RAD's IVF Medical Director. The Center has a multi-year track record of utilizing single embryo transfer and pre-implantation genetic screening (PGS) to maximize healthy pregnancy results.
Reproductive Associates of Delaware, established in 1995, is a full service subspecialty fertility practice with locations in Newark, Wilmington, and Dover. RAD's Board certified physicians are Drs. Barbara McGuirk, Ronald Feinberg, George Kovalevsky, Adrienne Neithardt, and Lenore Tietjens-Grillo. RAD's IVF and Fertility Wellness Centers are located on the main campus of the Christiana Care Health System in Newark. For more information on Reproductive Associates of Delaware visit http://www.ivf-de.org.
###