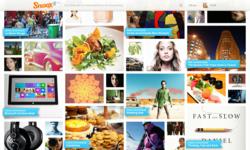 New York, NY (PRWEB) November 14, 2012
Snoox, the universal social-recommendations engine for friends, today launched with public access for the first time. Snoox is a social application that lets users share recommendations for the places and things they love, and find the best of everything from the people they trust most: their friends.
By combining the best of the social Web with search and recommendations, Snoox offers a fun, beautiful and addictive visual environment. Snoox gives users multiple ways to share and explore recommendations.

Friend-based search - A highly refined search tool returns results based first on recommendations from friends, followed by suggestions and ideas from tastemakers and the greater Snoox community.
Universal topics – Snoox lets users search for recommendations on virtually anything — which movie to see, where to eat, the hottest club or the coolest shoes — and post top picks across any category.
Authentic experiences – Recommendations on Snoox are based on real, meaningful experiences that can be shared with a trusted circle of friends and beyond, to help friends confidently discover new exciting places and things.
Visual recommendations – A hallmark of Snoox is its clean, streamlined interface. Recommendations are easy to upload, and feature big, bold images, accompanied by perspectives on what makes something amazing and worthy of recommending it to friends.
Immediate gratification – With the "Get it now" icon, Snoox users are just one click away from making a purchase, booking a hotel, reserving a table or countless other actions.
"We all have our go-to friends who we ask for advice in real life, which was the inspiration behind Snoox," said Guy Poreh, founder of Snoox. "You would no sooner stand in the middle of a subway car and ask a group of strangers for a recommendation for the best Italian restaurant in Manhattan, expecting a response that you can trust. Instead, the most influential recommendations come from our real friends. Snoox is now the single, online destination to find friends' recommendations on absolutely anything, and to share your own favorite things."
With Snoox, users write recommendations and organize them in personalized 'displays': collections on any theme or topic that feature striking images and text-based recommendations. Snoox stands apart from anonymous ratings services by providing trusted perspectives on what makes something the best-of-the-best from the real 'experts' – users' friends.
Snoox is presently in Beta and can be accessed on the Web at snoox.com or on Facebook as a native application. A mobile application is also under development.
About Snoox:
Snoox is a social recommendations engine that lets you search and discover top recommendations from friends, and share your own favorite places and things. Each day, decisions are made on where to go, what to do, and what to purchase based on friends' suggestions offline. Snoox takes these interactions online by creating searchable social recommendations, on any topic – all in one beautiful, image-based site.
About Project Krypton:
Project Krypton is an early-stage technology venture, led by executives from the digital advertising, new media and consumer technology industries. The company is focused on social utilities and commerce projects that take a fresh approach to offline consumer behaviors. Snoox, a universal social-recommendations engine, is the company's first product. Project Krypton is privately held and backed by angel investors, with offices in New York City and Tel Aviv.
Press contacts:
Jonah Balfour // Blonde 2.0 for Project Krypton // jonah(at)blonde20.com
Thérèse Bruno // Head of Marketing, Project Krypton // therese(at)snoox.com // +646.202.2665
Snoox is a trademark of Project Krypton, Inc. All other trademarks are property of their respective owners.
http://www.snoox.com | http://www.facebook.com/snooxinc | twitter.com/snooxteam