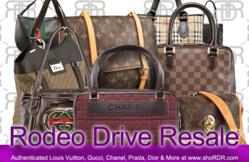 Attempting to save a few bucks by fixing a major problem yourself can lead to a greater loss in the long run if the damage becomes irreversible.
(PRWEB) November 15, 2012
Authentic designer handbags from such notable fashion houses as Louis Vuitton, Chanel, and Fendi can cost a pretty penny, but these staples of upscale style are crafted with quality and care that, when properly sustained, can last a lifetime. Today, Rodeo Drive Resale(http://www.shopRDR.com), premier reseller of 100% authentic Louis Vuitton bags, Chanel purses, and Christian Dior wallets, offers expert advice in keeping your fashion investments beautiful.
Giving a designer bag the best shot at a long life means preventing stains as much as possible, and as fans of the world's top designers know, dirt, oil, and sweat can quickly turn a one-of-a-kind Gucci shoulder bag into a spotty mess. Therefore, it is always a good idea to handle these luxury items with clean hands. Also, avoid placing it on the ground – for even a short while. The three-second rule is a no-go when it comes to high fashion, and at less than $20 bucks, a purse hanger makes the perfect luxury bag companion. Strong enough to hold most designer purses and bags, it literally hangs of the edge of the table, leaving your bag free from the millions of germs and grime just waiting to ruin its pristine finish. Additionally, having a leather bag conditioned about once a year is a good way to keep it from becoming too dry, said Rodeo Drive Resale co-founder Raya Jaffer.
Here are a few more tips:
1) The Inside Look: Cleaning the inside of a leather handbag can be done using a moist cloth and detergent specifically designed for use on fine apparel. As with the outside, spot-test any detergent before applying to ensure it agrees with the material. For lint, dust and other tiny particles that accumulate at the bottom of a bag, consider using a small vacuum or lint roller to remove debris.
2) Odor Removal: Leather handbags can develop an odor for a number of reasons. Fortunately, many of these unpleasant scents can be treated win an age-old home remedy of baking soda, which, when put in a container inside the purse for 24 hours, will act as an absorbent and leave the bag smelling refreshed. Similarly, crumpled newspapers, tea bags and coffee beans left inside a bag overnight have also been used to tackle unwelcomed odor.
3) Avoid The Temporary Fix: Bags that are used often are likely to acquire their fair share of scratches. Raya recommends investing in proper cleaning/repair before attempting to a temporary fix, such as shoe polish for leather bags. "Attempting to save a few bucks by fixing a major problem yourself can lead to a greater loss in the long run if the damage becomes irreversible," she said. "A professional will maximize the longevity of an item and properly assess the best way to restore the purse to its original look."
4) Say No To Paper: "Never apply cleaning products directly to your handbag. Never use paper towels or napkins to work a stain," Joseph Hallak, partner of Hallak Cleaners, was quoted as saying in a 2010 interview on Stylelist.com. "A white towel is the ideal option. Also, when dealing with leathers, always test a small area with your cleaning substance to make sure there are no reactions."
Rodeo Drive Resale (shopRDR.com) has built a reputation of providing amazing deals on handbags, clothing and accessories from the top designers of upscale fashion. The company offers a 100% guarantee of authenticity on each item sold, and works daily with a network of clients looking to buy, sell, or for consignment of their luxury goods.
ShopRDR.com loves high-end fashion, and believes finding a high quality, classic piece should be an easy, enjoyable -- and most importantly -- hassle-free shopping experience. For the finest in Louis Vuitton, Chanel, Prada, Gucci, St. John Knits, Christian Louboutin, Tiffany & Co. and more, visit RDR online at http://www.shopRDR.com or call 1-888-697-3725. Also find shopRDR.com's blog at http://blog.shopRDR.com.
Also find shopRDR at:
Blog: blog.shopRDR.com
Facebook: facebook.com/shopRDR
Twitter: twitter.com/shopRDR
YouTube: youtube.com/ shopRDR
Pinterest: pinterest.com/shopRDR
Rodeo Drive Resale (shopRDR.com)
1-888-697-3725
service(at)shopRDR.com