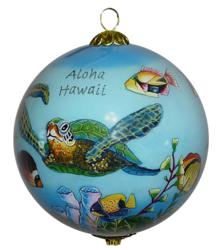 Visitors to Hawaii especially love to see Honu – the Green Sea Turtle – on ornaments
Mililani, Hawaii (PRWEB) November 15, 2012
Hawaiian Christmas ornaments are on the top of many travelers' lists of souvenirs. Placing them on the tree in December or using them to decorate the holiday home is a wonderful way to bring back special memories year after year.
Maui by Design (http://www.mauibydesign.com) has just released nine new ornament designs in time for the 2012 holiday season, including new designs of Green Sea Turtles and of Hawaii's tropical flowers, the second most popular category of ornaments with visitors to the state.
Also new this year are two ornaments that celebrate Hawaii's water sports of surfing, canoeing and paddle boarding and an ornament that shows Santa living the dream Hawaiian beach vacation, complete with Lei, flip flops, Aloha shirt and surf board. Each ornament is hand painted from the inside of the glass ball.
The most popular imagery on a Hawaiian ornament shows Hawaii's marine life, according to Andrea Butter, CEO of Maui by Design, who offers over 40 different hand painted Hawaii ornaments. "Visitors to the islands especially love to see Honu – the Green Sea Turtle – on ornaments," says Butter, "as well as tropical fish and dolphins."
The new ornaments round out a collection of collectible hand painted glass ornaments that also includes romantic images of Hawaii's beautiful sunsets, its lush tropical scenery complete with waterfalls and rainbows and typical Hawaiian images such as Hula girls.
Each Hawaiian Christmas ornament from Maui by Design is painstakingly hand painted from the inside of the glass ball. First the inside of the ornament is acid washed for the paint to adhere to the glass. Then the artist creates the painting by inserting a miniature brush through the tiny hole at the top, and painting each minute detail in reverse, often solely by the sense of touch, as the opaque glass does not allow the artist to see the tip of the brush.
Each ornament is 3.2 inches in diameter and comes with a protective and decorative velvet gift box that makes it an ideal gift and keepsake for anyone who loves Hawaii.
The Hawaiian ornaments can be bought at the premier gift shops across the Hawaiian islands as well as online at http://www.mauibydesign.com
About Maui by Design
Maui by Design was founded in 1999 with a small line of inside or reverse hand painted Hawaiian Christmas ornaments and votive candleholders using Hawaiian tropical designs.
Today you can chose from over 40 hand painted ornaments and eight votive candle holders showing Hawaii's beautiful tropical flowers, sea life, romantic sunsets and Hawaiiana designs. In addition to its premier line of Hawaiian ornaments, Maui by Design also offers a line of leather accessories hand painted with tropical Hawaiian imagery, marine and beach inspired jewelry, Hawaiian salt and pepper shakers, and hand carved wood wall art.
Originally operating from a small house in Kihei, Maui, the company moved its products to Oahu in 2009, from where it ships to customers across all Hawaiian islands, the U.S. mainland and internationally.