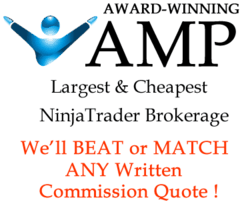 Chicago, IL (PRWEB) November 14, 2012
AMP exclusive new offering "NinjaTrader integrated with CQG" - Institutional Reliability for the Retail Trader.
AMP Clearing is a Chicago-based Futures Commission Merchant (FCM) providing access to the global electronic futures markets for Individual Traders, US & Foreign Introducing Brokerages, CTA's, 3rd Party & API Developers.

Fully Redundant Global Network (Access to all major US, European, Australian & Singapore futures markets)
Historical and Real time Index Data included (Tick/Trin, Advance/Decline, $DOW, $SP500)
Multiple Native Language Support (Czech, French, Hebrew, Italian, Polish, Russian, Spanish)
Fund account with any currencies (USD, EUR, GBP, CHF, CAD, AUD, HKD, JPY, NZD, SGD)
24-hour Automated Systems Execution Desk for 3rd Party or Proprietary Strategies
NinjaTrader Specialist...ready to help!
Why AMP?
$500 Account Minimum
$400 ES Day Trading Margins
All Major Currencies Accepted
No Monthly Maintenance Fees
No Volume Requirements
24 hour Support & Trade Desk
Direct Global Exchange Access
Choose from Multiple Data Feeds
Free Trading Platforms Available
AMP Futures is the Cheapest NinjaTrader Brokerage: There is no reason to go somewhere else. AMP will match or beat any Written Commission Quote.
Congratulations traders, the futures industry has become very efficient and trading fees have been reduced greatly. Trading is a business and commissions will directly affect the cost of trading. AMP Futures is very knowledgeable in the current market prices of most brokerages & cost of trading platforms.
Please fill out this form, giving basic information about trading such as current trading platform, current commission rate and estimated monthly volume and AMP Futures will email a full commisisons sheet: http://www.ampclearing.com/commissions.html
Why CQG Datafeed?
Traders choose CQG because they trust the data's quality, accuracy, and reliability for 30 years!
CQG continues to have the highest commitment to providing reliable accurate data. Primary and failover data centers worldwide ensure uninterrupted market data distribution. A data quality group monitors ther global data network 24 hours a day to ensure the customers get the clean data they need, when they need it.
When routing orders through CQG, all orders, cancellations, and modifications are sent by CQG through the most robust connection possible to redundant servers using SSL encryption to secure your trading information
Why NinjaTrader?
Regardless of what markets traded, what style of trader or if require real time or end of day analytics, the NinjaTrader trading platform provides the tools to analyze the markets and trading ideas in a flexible, customizable and user-friendly manner that helps traders.
NinjaTrader Direct - free
Fully licensed Depth of Market Trading Window, Real-Time Charts & more.
NinjaTrader Standard- $50/month
Brackets, Trailing Stops, OCO's & many other Advanced Order Strategies.
Do Not Fall Behind…Try it Today.
Free NinjaTrader integrated with CQG | real-time demo registration: http://www.ampclearing.com/CQGNTdemo.php
NinjaTrader Specialists are ready to assist. Get all and more at deep discount commission rates, low margins and without any hidden fees.
For more information, please visit:
AMP Global Clearing | http://www.ampclearing.com
800.560.1640 (Toll Free) | 312.893.6400 (Direct) | 312.893.7660 (Fax)
LinkedIn: http://linkedin.com/in/ampclearing
Twitter: http://twitter.com/AMPClearing
Disclaimer:
The risk of trading can be substantial and each investor and/or trader must consider whether this is a suitable investment. Past performance is not necessarily indicative of future results.