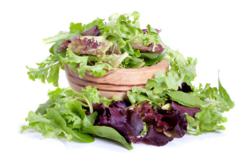 It will be interesting to see which farm supplied the contaminated product, and if that farm has a history of shipping contaminated product.
--William Marler, Attorney
Rochester, NY (PRWEB) November 13, 2012
Seattle-based Marler Clark and Rochester-based Underberg & Kessler filed a lawsuit Tuesday against State Garden, a Massachusetts-based company whose product was identified as the source of an E. coli O157:H7 outbreak among upstate New York residents in October, 2012. The lawsuit was filed on behalf of Sandra Isaac, an Ontario, NY resident who alleges she became ill with an E. coli infection after eating State Garden spinach and spring salad mix purchased from a Wegmans supermarket. The lawsuit was filed in U.S. District Court for the Western District of New York (Case No. 12-CV-6612-CJS)
According to the complaint, Mrs. Isaac consumed Wegmans Organic Spinach and Spring Mix on multiple occasions in mid-October. She began experiencing symptoms of E. coli infection, including painful abdominal cramping and diarrhea, on October 19. Her symptoms progressed over the next several days to include severe, bloody diarrhea. She was treated for dehydration, pain and nausea at the emergency room on October 22. A stool sample Mrs. Isaac submitted while at the ER later returned positive for E. coli, and she was notified by the Wayne County Health Department that her illness was one of at least 19 associated with an E. coli outbreak in the area. A sample taken from spinach and spring salad mix in Mrs. Isaac's home tested positive for E. coli.
"Most leafy greens are coming from California this time of year," said William Marler, managing partner of Marler Clark. "It will be interesting to see which farm supplied the contaminated product, and if that farm has a history of shipping contaminated product."
Paul Nunes, a partner with Underberg & Kessler, commented: "Folks have a right to expect that the food they buy is safe to eat and is free of dangerous pathogens. More has to be done to protect the safety of our food chain."
BACKGROUND: Marler Clark and Underberg & Kessler have joined together to represent victims of multiple foodborne illness outbreaks, including the 2002 Brook-Lea Country Club Salmonella outbreak, the 2006 Dole spinach E. coli outbreak and the 2011 Salmonella outbreak linked to Turkish pine nuts. Marler Clark is the nation's only law firm with a practice dedicated solely to representing victims of foodborne illness, and is currently pursuing litigation on behalf of victims of outbreaks traced to cantaloupe, mangoes, peanut butter, ricotta cheese and other foods. The firm has recovered over $600 million in verdicts and settlements on behalf of victims of foodborne illness in the last 20 years.