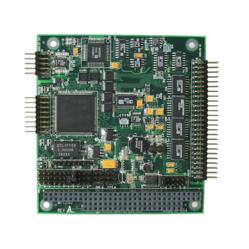 The MPC565 enables newer non-DMA PC/104 SBCs to perform hi-accuracy A/D and D/A via the popular PC/104 bus without DMA. Its on-board FIFO compensates for the missing DMA function, providing true 16-bit performance with PC/104 simplicity with modern SBCs.
Montrose, CA (PRWEB) November 15, 2012
The popular Autoscan mode in the analog input section adds a wealth of choices to the system designer. Various on-board or external "pacer clocks" can be used to cause periodic conversions to occur without any software intervention. An SRAM-based storage area is used to set the include/exclude control, mode (SE or DI), gain, and low-pass filter knee for each channel, individually. Once initiated, the Autoscan mode proceeds, using a 1024 word FIFO register. FIFO flags can trigger a system IRQ to allow efficient servicing by the program.
The MPC565 also includes 12 general-purpose digital I/O lines. These flexible I/O lines can be individually set as input, output, or inputs that generate an IRQ when they transition from low to high. Fault protection is provided on all 12 digital I/O lines.
Analog input range is ±10.1V or ±5.05V. Analog output range is ±10.1V, and all outputs are set to 0V upon power-up or reset. Input and output accuracy is .02% of full scale across the operating temperature range. The input circuitry will allow sampling of 20V p-p at 35KHz, or 5V p-p at 100KHz. The output circuitry can generate 20V p-p signals at 15KHz. Sample programs and full documentation are provided with the board.
An extended temperature version, the MPC565-ET, is also available. The MPC565-ET has proven hight accuracy from –40°C to +85°C. Both versions of the MPC565 require only a single 5V supply to operate. Line regulation on the 5V input is .001% of full scale.
The MPC565 starts at $440 in single quantity and mid $200's in OEM quantities. Turn-key development kits ship with the first unit allowing immediate out-of-the-box development. Significant OEM discounts are available on all boards. Contact Technical Sales Dept., Micro/sys, Inc., 3730 Park Place, Montrose, CA 91020, phone (818) 244-4600, FAX (818) 244-4246, email: info(at)embeddedsys.com
About Micro/sys: Since 1976, Micro/sys has specialized in high-performance, compact, rugged, low-power embedded controllers suited for OEMs in demanding environments. Pioneering embedded USB, Microy/sys introduced the industry recognized StackableUSB standard along with a broad offereing of Host and Client USB microcomputer and microcontroller boards. Recently Micro/sys has combined embedded ARM processors with low-power FPGAs, enabling developers to customize applications by programming the FPGA. Micro/sys' microcontroller, ARM, FPGA and x86 single board computers are specified by OEMs in a range of applications including semiconductor processing, medical, military, mail handling, pharmaceutical, industrial marking, process control, and many other industries. For more information, visit the Micro/sys website, http://www.embeddedsys.com.