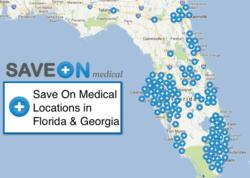 This partnership allows more patients to gain access the best medical care at the best price through Save On Medical's easy to use and efficient web platform.
Tampa, FL (PRWEB) November 14, 2012
Patients throughout the United States now have access to more health care cost savings due to Save On Medical's partnership with Excellerad and their extensive, nationwide network of radiology providers. This partnership means that more than 100 health care providers are being added to the Save On Medical provider network, giving self-pay patients better access to high quality care at affordable prices in more cities.
Excellerad currently has providers located throughout Florida, Georgia, Texas, Mississippi, New York, California, Oklahoma, Kentucky, Illinois, Wisconsin, Nebraska and is adding more providers in other states every day. The exceptional quality standards of Excellerad's providers, means that Save On Medical patients can price shop with the added confidence that the physicians they are comparing are some of the best of the best.
Save On Medical's Vice President, Matt Schneider is more than excited to be working with Excellerad as the two companies share the same mission; to help patients save money on high quality medical procedures and to provide better value to providers.
Rob Arturi, Excellerad's President, commented on the partnership with Save On Medical saying, "Excellerad's mission is to provide patients with the highest quality care possible. Our partnership with Save On Medical will allow more patients to gain access the best medical care at the best price through Save On Medical's easy to use and efficient web platform."
The ability to price shop and find self-pay pricing is no longer an impossible feat. Price transparency is becoming available to the masses and is not limited to just medical professionals anymore. Excellerad is proud to be working with Save On Medical to allow for transparency and price shopping in their regions.
Visit the Save On Medical website to search for providers in your area today.
About Save On Medical
Save On Medical is a patient tool similar to Expedia for travelers. The website allows patients to price shop, compare and book health care procedures online. Patients are able to search for medical services by price, quality and convenience with the help of the SOM Docometer. By comparing average costs of services in the patients' region, Save On Medical allows for pricing transparency in the health care market, helping the patient to decide what is important to them when it comes to their care. Save On Medical patients can easily schedule appointments and pay for services stress-free and at a fraction of the price, in a time where health care costs are high and price transparency is seemingly impossible.
About Excellerad
Excellerad is a nationwide network of diagnostic imaging providers primarily serving workers' compensation patients. Excellerad uses the latest in scheduling and communications technology to simplify the process of high quality imaging for patients, adjusters and physicians. Integrations such as online billing, secure image sharing for physicians and an experienced, attentive staff enable Excellerad to provide great service to a large volume of patients without sacrificing the personal attention their customers deserve. As the Excellerad network continues to grow throughout the United States it has not come at the expense of quality. All Excellerad providers must meet the highest industry standards. Excellerad's focus is precise and simple; provide every patient the highest quality of care, without compromise.