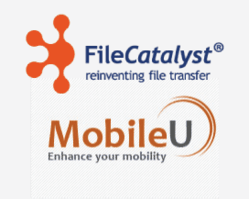 Ottawa, Ontario (PRWEB) November 13, 2012
MobileU, based in Israel, is a leading provider of mobile and telecommunications management, security and effective utilization solutions.
According to a July 2011 Forrester report, the 2010 annual revenue for Managed File Transfer solutions was approximately $1.4 billion. The Forrester report anticipates that this high level of growth will continue for the next three years as organizations continue to upgrade their B2B infrastructure and then will settle into a more normal growth rate of 8% per year by 2014, with a 2015 estimated managed file transfer market revenue projection of $2.48B.
"The Israeli market for accelerated file transfer solutions mirrors the general market's high level of growth; with FileCatalyst as our partner, we are well positioned to provide our customers with the solutions they need," said Yaacov Sherban, CEO and Founder of MobileU. "With the addition of the FileCatalyst accelerated file transfer solutions to our portfolio, we are in a better position to help our customers increase efficiencies and productivity, while at the same time driving costs down. We are delighted to announce this distribution agreement and look forward to joining FileCatalyst in providing a truly exceptional offering to our customers, including mobile clients."
MobileU has joined the FileCatalyst Partner Alliance program giving them the support needed to address this growing market. The program is designed to drive significant incremental sales and achieve higher profit margins through the delivery of FileCatalyst Direct, FileCatalyst Workflow, FileCatalyst Webmail and FileCatalyst Central products to existing and new customers looking for secure, reliable, and accelerated file transfer solutions.
"We are delighted with today's announcement as this partnership will enable us to leverage MobileU's established distribution channel and much-lauded customer and support services. This agreement will allow us to quickly establish a presence in the Israel. I look forward to working with the team at MobileU and to begin delivering the FileCatalyst accelerated file transfer solutions to their customers," said Alan Atkinson, Vice President, Business Development for Unlimi-Tech.
About Unlimi-Tech Software
Located in Ottawa, Canada, Unlimi-Tech Software is the creator of FileCatalyst, the world's leading accelerated file transfer solution. Founded in 2000, the company has more than a thousand commercial and government clients. FileCatalyst is a software platform designed to accelerate and manage file transfers. FileCatalyst is immune to the effects that latency and packet loss have on traditional file transfer methods like FTP, HTTP or CIFS. Global organizations use FileCatalyst to solve issues related to file transfer, including content distribution, file sharing and offsite backups. For more information, please visit http://www.filecatalyst.com
About MobileU
MobileU is a leading solution provider for mobile devices management, security and effective enterprise telecommunication utilization. The company has developed a portfolio of technology solutions from the world's leading companies – established, reputable companies with large client bases, enabling MobileU to offer a comprehensive solution for each of the challenges posed by the new and advanced cellular world. For more information, please visit http://www.mobileu.co.il