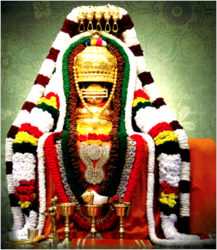 Installed by Paramahamsa Nithyananda, the Nithyananda Vedic Temple Los Angeles holds the largest number of tallest deities in North America.
Los Angeles, CA (PRWEB) November 13, 2012
Two day of Festivities filled with Vedic Rituals, Satvic Food Fest, Bhajans, Bharatnatyam (Indian Classical Dance), Live Music, Native Aztec Spiritual Dancers, His Holiness Paramahamsa Nithyananda's Message & Blessings, Mayor's visit, eNVidyalya children performing unique & creative yoga.
Nov 9th was auspicious for the devotees & followers from all around California who joined in the celebrations of the 5th Anniversary of the Nithyananda Vedic Temple in Los Angeles. All the deities (more than 100) of them received their abishekam (sacred bath) and alankaram (festive dressing with silks and jewelry). Huge colorful garlands (each close to 6 feet) adorned these tall living deities (which are the only kind in US which have been personally energized and installed by a living incarnation).
Cultural programs were live streamed across the world through Nithyananda.TV which is watched daily by an average of 1300 people from around 45 countries.
Amidst celebrations, during the live streaming of the Daily satsang (Spiritual sessions), His Holiness Paramahamsa Nithyananda blessed the devotees and followers who have been running the 100%-volunteer based temple and keeping the Vedic culture alive and sharing it with the thousands of people who visit every year, just to feel the intense energy and ambience of the living enlightened energy space.
Each of the sacred deities have received so much attention from Paramahamsa Nithyananda, starting with the inspection of selecting the granite and sculpting of the deities, selecting the fine clothes and jewelry, receiving them in the temple, physically taking part in the installation, energizing and the grand inauguration ceremonies.
One of the stark differences any visitor notices when they enter the Nithyananda Vedic Temple, is not only the intense enlightening energy of a living Master radiating through the deities unlike anything in any other temple, but the enlightened lifestyle one can easily assimilate and become part of, being practiced and shared with ease and joy. The welcoming energy, the constant sharing of highest truths (through meditation, yoga, vedic scriptures, energized satvic food) through every action is evident not as an act of protocol but as life itself.
One of the rare Hindu temples of the world.. where every day is an occasion to Celebrate and Share!
Nithyananda Vedic Temple, is located at 9720, Central Ave, Montclair CA - 91763. For more information one can call - 909.625.1400 or by writing to info(at)nithyanandavedictemple.org or visit the website http://www.nithyanandavedictemple.org
About His Holiness Paramahamsa Nithyananda:
His Holiness Paramahamsa Nithyananda is a global leader in the science of enlightenment. Nithyananda is revered as a living saint and a Avatar (divine incarnation) by millions worldwide.
He is the most-watched spiritual teacher on YouTube.com with more than 14 million views, and the author of more than 300 books published in 27 global languages. Nithyananda has been named among the world's top 100 most spiritually influential personalities of 2012. An accomplished yogi and gifted spiritual healer, Paramahamsa Nithyananda has healed diseases ranging from migraine to cancer, often with a single initiation.
For close to a decade now, Paramahamsa Nithyananda has been working with scientists and researchers to demystify the yogic sciences of the Universe, including kundalini awakening, DNA activation, brain-cell regeneration, levitation, materialization and yogic age-reversal.
When Paramahamsa Nithyananda ascends the traditional seat of teaching (Dhyanapeeta Mahasamsthana Avathumvara Simhasana) every morning and starts his teaching sessions (satsang), thousands of people from over 30 countries participate live via 2-way video conferencing. Also, people from 150 countries watch the streaming of recorded videos every day on Nithyananda.tv
Nithyananda who is also a powerful exponenet of Vedanta, has already won recognition as the pioneer of a powerful Vedic renaissance. His live talks on Bhagavad Gita, Shiva Sutras, Patanjali Yoga Sutras, Brahma Sutras and other powerful scriptures have touched audiences of thousands, both within the country and abroad. Taking Vedic culture into homes: Nithyananda has an agenda to make enlightened living a practical reality for every person in every home. Nithyananda's vision is to restore spirituality to the people, and the people to spirituality, in very real ways.