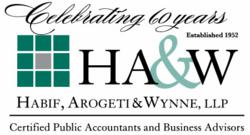 Atlanta, Georgia (PRWEB) November 14, 2012
Habif, Arogeti & Wynne, LLP (HA&W), the largest Georgia-based tax, accounting and consulting firm, is proud to announce that Angela Dotson, senior manager in the Firm's advisory business services group, has been named an Atlanta Business Chronicle's 2012 40 Under 40.
This prestigious award is presented annually to the best and the brightest young professionals in Atlanta. This year the Atlanta Business Chronicle received over 500 nominations, more than any year in the past. Winners were chosen based on leadership, professional achievements and community service.
Professionally Angela is considered a rock star, now in her 14th year in public accounting, demonstrating leadership with courage and poise through all situations and challenges. Angela is also actively involved in giving back to the Atlanta community. Today Angela serves on the board for Turning Point, a healthcare facility for women with breast cancer, and is a board member on the finance committee at C5 Youth Foundation Georgia, a college readiness program helping at-risk youth.
"It is a huge honor to be recognized as a 40 Under 40 recipient and I am humbled to take a place among so many successful 40 Under 40 alumni," said Dotson.
"As the first person to interview Angela for an internship more than 14 years ago, it is incredible to see the brilliant, professional and giving young women that she has become," said Sam Tuck, partner-in-charge of the advisory business services group at HA&W. "All of us at HA&W couldn't be more proud of her and all of her accomplishments."
Angela and all other 40 Under 40 winners were honored at an awards ceremony held on Thursday, November 8, 2012 at the Atlanta History Center.
About Habif, Arogeti & Wynne, LLP:
Today the pace at which work gets done is faster than ever before, and when companies manage that pace by surrounding themselves with the right people, sustainable success happens. That's why the Southeast's most recognizable businesses continue to select Habif, Arogeti &Wynne LLP as their accounting, audit, tax and consulting firm of choice. Companies looking to increase profitability, streamline processes that improve financial reporting, and reduce the time and costs associated with audits, tax planning and compliance choose HA&W. Quicker answers, avoiding unforeseen pitfalls, becoming a better business for the long-run. These are just a few of the benefits clients routinely experience when working with HA&W. Starting up, growing or getting ready to transition? Operating locally, nationally or globally? HA&W meets you there and gets you where you want to be. Be Successful. Reach out to HA&W at http://www.hawcpa.com.