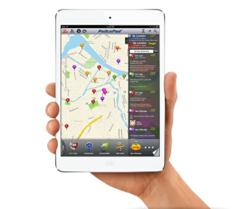 HUDSON, NH (PRWEB) November 13, 2012
Zco Corporation announces an iPad mini edition of PolicePad at this week's Training Coordinators' Conference, organized by the Texas Commission on Law Enforcement Officer Standards and Education (TCLEOSE). The event is being held November 12-15 at the Omni Bayfront Hotel in Corpus Christi, Texas.
Representatives from Zco are located in Vendor Tent B, in the hallway just outside the main expo room. Zco's Vice President of Product Development, Gary Mueller, is demonstrating PolicePad on both the full-size iPad and on the new iPad mini. Because the iPad mini has the same screen resolution as the iPad 2, PolicePad is fully compatible with no modifications necessary.
Mueller is also demonstrating PolicePhone, a companion product to PolicePad designed for iPhone and Android phones. Zco joins 40 other exhibitors at the conference.
"There's interest [in the iPad mini] for more mobile police officers - not in cars, but on foot," Mueller said. "It's a convenient size for foot patrol or doing investigations."
The theme of this year's conference is "Train to Protect." According to the conference website, it features "a wide variety of unique, one-of-kind training topics from leading law enforcement experts."
Speakers include Gordon Graham, president of Lexipol, a company designed to standardize policies, procedures and training within law enforcement agencies around America, on "Ethical Decision Making in Law Enforcement Operations"; attorney Jack Ryan with "Legal Update for Instructor Liability"; and Dean Crisp, a thirty year veteran of law enforcement, on "Transformational Leadership."
Law enforcement training coordinators develop the skills, knowledge, and service delivery of sworn and civilian employees. They help facilitate comprehensive training to ensure that state citizens and visitors are provided quality public safety services while being treated with professionalism, dignity, and respect.
About Zco
Founded in 1989 and headquartered in Hudson, New Hampshire, Zco Corporation has served Fortune 20 companies to small businesses for over 20 years. Zco is one of the largest custom mobile app developers in the world. Its services include 3D animation and games, augmented reality and custom software. In addition to Zco's work for hire, it has two iPad-based public safety products, PolicePad and FireTab. To learn more visit http://www.zco.com/.