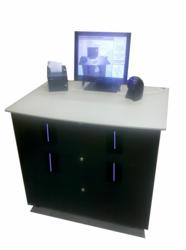 It is like a circulation desk in a box, plus we don't have to worry about security - its all 100% secured!
Somerdale, NJ (PRWEB) November 27, 2012
Library Automation Technologies, Inc. (LAT), a leader in library automation products, is pleased to announce the release of the next generation models of its popular media self service circulation jukebox allCIRC™ product line: the allCIRC-CUBE™ and allCIRC-DOUBLE™ (for even higher capacity!) Both models combine No-Cost / 100% media theft security with complete media load/unload patron self-service and a full-featured self-check. New systems are portable, have small footprint with even greater capacity, significantly faster throughput, and much lower cost than its predecessors.
Building on knowledge and feedback of a number of existing media jukebox installations throughout the country, allCIRC-CUBE™ further pushes the media self-service capabilities envelope by creating a one-stop "do-it-yourself" self-service patron station allowing for circulation of all materials in the library without staff assistance.
Fully ADA compliant, both the allCIRC-CUBE™ and allCIRC-DOUBLE™ provide secure CD/DVD/BluRay media circulation and a complete self-service in one ultra-compact, ultra-fast system. With numerous available options such as EM Desensitization, RFID, Media Case Unlocking, Digital Signage, Integration with LAT-Stena™ and more, both allCIRC models deliver unprecedented value at a low cost to a modern library.
# # #
Library Automation Technologies Inc., (LAT) founded in 2001 has installations in hundreds of libraries throughout the United States. LAT's innovation earned the firm the coveted "#1 Fastest Growing in South Jersey, 2005" by the Philadelphia Business Journal. LAT further continues its growth expanding into automation by delivering media jukebox line of products solely dedicated to library operations.