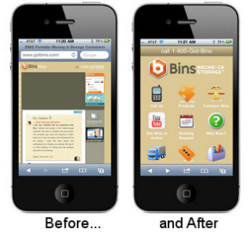 We searched the web for mobile options, but most were either ugly or beyond our budget. Then we found GetGoMobi.com. It has a simple, almost iPhone-like presentation easy for customers to use, yet powerful enough for us to effectively market our winery.
Columbus, OH (PRWEB) November 15, 2012
A mobile friendly web site is no longer a luxury - more web visitors are arriving via mobile devices than any other route. OneWorldHosting.com and GetGoMobi.com have teamed up to offer a complete package for a complete online presence; mobile and main site, email and domain name.
GetGoMobi.com and OneWorldHosting.com have concentrated their efforts to offer a simple and complete online presence in one place, with one provider and one fee. The hosting company now allows customers to order a mobile web site service from GetGoMobi.com and add main/desktop site hosting for just $2.95 more. Plans include the ability of current customers to upgrade their package.
The GetGoMobi.com philosophy stresses that no customer should be waiting to turn mobile visitors into customers. The feature rich mobile sites allow customers to experience the full functionality of their smart phone with click to call, click to map and integrated mobile e-commerce.
Recent research has proven that the mobile web is integral towards gaining market share:
● Half of all local searches are performed on mobile devices.
● 61% of customers who visit a mobile unfriendly site are likely to go to a competitor's site.
● 79% of smartphone users use their phones to help with shopping and 74% make a purchase as a result.
CNET called OneWorldHosting.com their #1 choice for small business for their fast personal service is the main reason. Customer reviews have demonstrated they are bringing this same commitment to the mobile web.
A GetGoMobi.com mobile web site can provide any business with a mobile presence that features all of the functionality of an app at a fraction of the cost. And it's easy to build, modify and keep current.
Find out more about the mobile web, the broad range of features available to present your business to your most engaged customers, and just how easy it is to get started with a 30 day free trial, at http://getgomobi.com/
About the Company
OneWorldHosting.com is a web hosting and domain registration provider. They provide web hosting, VPS and dedicated servers, and domain registration for small businesses. They offer the ultimate solution in web hosting with faster, personal service, competitive prices, and unparalleled. For further information visit http://oneworldhosting.com.
GetGoMobi.com is the One World premier provider of mobile web site services for small business. For further information visit http://getgomobi.com