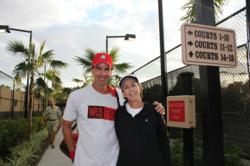 Bonita Springs, Florida (PRWEB) November 15, 2012
In recent years Ft. Myers usually buckled early against the stronger Naples team. Not so, this year. Although the final score was Naples 13 matches, Ft. Myers 8, the victory hung in the balance for most of the afternoon of high level tennis by the best tennis players in the area.
Played last Saturday at the Bonita Bay Club in Bonita Springs, an incredible nine of the total twenty-one matches between the two teams were decided by anything-can-happen third-set tiebreakers. Naples struggled to win seven of those nine.
The Challenge Cup was presented to Pete Minarich on behalf of Team Naples by Paula Scheb, Director of Tennis at Bonita Bay Club. Minarich stated, "The Ft. Myers team came right at us from the beginning and it was obvious they were a lot stronger. We really had to hang in the whole afternoon. Our traditional foes really went to the well and we must get better next year."
Ft. Myers team captain, Jeff Timmer, commented, "We had real fighters show up for the battle who made our Ft. Myers community proud. They gave all they had and came up only three matches short. I'm confident the record crowd appreciated the great tennis and all the efforts of the volunteers."
For complete match scores, including those of individual matches, visit the website, http://www.NaplesFtMyersTennisChallenge.com.
The winning team holds the Challenge Cup and important bragging rights for the next twelve months. Sponsors of the Challenge were Ritzman Tennis, the area's largest tennis courts contractor, Carrabba's Italian Grill of Bonita Springs, FL and ASG Software Solutions, an international leader in business software, based in Naples, FL. Page & Tuttle provided player clothing.
Bonita Bay Club is located in Southwest Florida between Naples and Ft. Myers. Established in 1985, Bonita Bay Club boasts five renowned 18 hole golf courses. Sabal and Cypress at Bonita Bay Club Naples were designed by acclaimed golf course architect Tom Fazio. At the club's main campus, designer Arthur Hill created the Marsh, Creekside and Bay Island golf courses. Two Master Tennis Professionals on-staff lead Southwest Florida's largest, most active tennis program. The tennis and sports programs are supported at the Bonita Springs location by 18 Har-tru courts, Tennis Shop and state-of-art Fitness and Spa facilities.
For more information about Bonita Bay Club in Bonita Springs and Naples, please contact Dianne Rambo, Membership Director at 239.949.5036. http://www.bonitabayclub.net