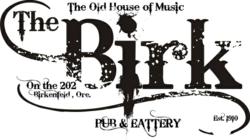 Going to the Birk is like crawling in to your favorite recliner – super comfy and just like going home. GO EXPERIENCE THE BIRK!
Birkenfeld, Oregon (PRWEB) November 16, 2012
The Birk is electrified, funky and lively, and located in a green, serene setting . . . it's a hoppin' roadside hub and social oasis. If you are looking for a unique dining experience, a dance floor brought to life by a lively band, a bar or a lounge with character there are such venues right here in your own backyard.
Step out the door. Head for the hills and for Birkenfeld where there is live music every Saturday evening starting at 7pm followed by a somewhat acoustic show on Sunday afternoon usually starting at 12:30pm. The Birk also offers catering, private parties, retreat for band rehearsal or recording. There are apartments available at The Birk as well as 65 acres of camping facilities about 4 miles down the road. Keep an ear open as The Birk will be streaming your favorite bands soon!