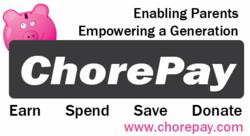 Many of us learn about the pitfalls of credit the hard way. We get credit cards in our college years, and the next thing we know, we're maxed out and left asking ourselves 'How'd that happen?'
Seattle, WA (PRWEB) November 13, 2012
ChorePay, a leading online chore management system, has introduced ChoreCredit, a tool for parents to teach their children how to use credit responsibly. With ChoreCredit they can make purchases in the ChorePay Mall of a higher dollar amount than they may have earned in their ChorePay wallet. With parental approval of the purchase the child then needs to work off what they owe to the parent and accept personal responsibility for their purchases. This can teach the child both the advantages and disadvantages of using credit in a safe, parental-controlled environment.
"Many of us learn about the pitfalls of credit the hard way. We get credit cards in our college years, and the next thing we know, we're maxed out and left asking ourselves 'How'd that happen?' Look at where we're at as a nation: the total US consumer debt has risen to $2.5 trillion, the average credit card debt in households carrying a balance is over $15,000 and now we're seeing a trend of prepaid credit cards being issued to kids under 18. If we're going to fix this, kids are going to have to get a real education about credit early in life. That's our goal, and with ChoreCredit, we think that we've given our users an ideal solution." explained Jeremy Jacola, ChorePay COO.
With ChoreCredit, ChorePay has responded to user feedback and is now providing full use of all ChorePay features without adding electronic funds. "Many parents feel that the ritual of sitting down with the child, physically opening their wallet and handing cash reinforces a strong work ethic and solidifies how the child sees their role in the family" continued Jacola. "I totally understand. That moment when you hand actual cash for a job well done is a formative one in the development of a child's financial education. So now we're presenting options. For users who want the streamlined system to save themselves last minute trips to the ATM, they can use our automated Wallet system. For those who wish to combine today's technology with a traditional reward, the ChoreCredit system is the ideal solution. The added benefit is that the ChoreCredit system has made it easy for International users to engage with ChorePay. To be completely honest, we haven't made an official International launch and are a bit surprised at the traction we're already getting in Europe, New Zealand, and other parts of the globe. It's pretty cool." Jacola mused.
About ChorePay
ChorePay provides a free online tool for parents to organize and centralize their children's chores. Beyond run-of-the-mill online chore charts and allowance tracking, this includes complete money management for the child with goals of education about saving, spending, and donating their earnings.
Founded in 2011, ChorePay is a small team of parents whose goal is to engage families and make the whole chore process not so much of a…well, chore. They believe it should be fun. Very fun.