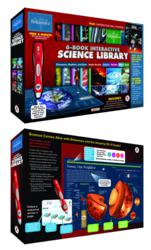 Chicago, IL (PRWEB) November 14, 2012
Encyclopædia Britannica® in partnership with Publications International, Ltd., announces that the Encyclopædia Britannica Interactive Science Library now comes with two interactive posters and a complimentary 6-month membership to BRITANNICA ONLINE®. The Interactive Science Library also includes six 80-page hardcover books and an SD-X reader pen that adds hours of audio content when the pen touches the books and posters.
The wall posters, "Explore the Animal Kingdom" and "Explore the Solar System" are beautifully illustrated and come alive with the touch of the reader pen to provide information and play learning games.
The included SD-X reader pen recognizes nearly invisible codes printed on the book pages and posters and plays back 17 hours of audio content, including definitions, scientific descriptions, sequencing, and quizzes. Hundreds of learning games, which are triggered when the pen touches game codes, take learners deep into the material on the pages for study and review. The user can choose to study privately with headphones or work with other students using the reader's integrated speaker.
"The Interactive Science Library was designed to provide interactive and experiential learning and illustrates how the gift of knowledge can be packaged in an exciting way that will allow children to enjoy hours of wholesome fun while learning about the world around them," said Michael Ross, Senior Vice President – Education GM for Encyclopædia Britannica.
The Encyclopædia Britannica Science Library is rich with full-color illustrations and photographs, lively graphics, inviting text, and interactive audio and games. The content is an appropriate supplement for a fifth-to-eighth-grade science curriculum to be used at home or in school. It is the perfect holiday gift that grandparents, parents, and children can enjoy together for hours.
The Britannica Interactive Science Library is available in English and Spanish and sold at Toys R Us, FAO Schwarz, Costco, Costco Canada, and Sam's Club. Three sets are available. The six-book Britannica Interactive Science Library includes both posters and all titles: Animals, Space, Under the Sea, Earth, Humans, and Dinosaurs, Reptiles and Birds. One of two three-book sets includes Animals, Under the Sea, and Dinosaurs, Reptiles and Birds. The other set includes Space, Earth, and Humans. These audio-enabled libraries complement other Encyclopædia Britannica licensed products, including interactive talking puzzles, interactive plush, traditional puzzles and more.
About Publications International, Ltd.
PIL has been in the publishing industry for more than 40 years, and each year publishes and distributes more than 10 million books and 15 million magazines. PIL is the world's largest publisher of children's interactive books. For more information visit http://www.pubint.com or http://www.pilbookstore.com.
About Encyclopædia Britannica
Encyclopædia Britannica, Inc. (http://www.britannica.com) is a leader in reference and education publishing with a range of products in many media, from online to mobile phone apps to printed books. For more than 240 years, Britannica has been one of the world's premier reference sources, written by Nobel laureates, scholars, historians, and subject-matter experts. Contributors include former U.S. President Bill Clinton, professional skateboarder Tony Hawk, and Mary Robinson, former president of Ireland and the United Nations High Commissioner for Human Rights.
To request a sample to review or if you require additional information, high res images and to request an interview, please email or call me directly. Ellen Resnick, JRLGroup, Inc. ellen(at)jrlgroup(dot)com, 847-291-7080, ext 201.