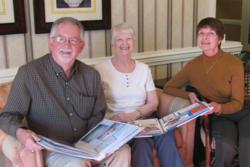 I wouldn't take anything for those years in the military.
Suffolk, Virginia (PRWEB) November 20, 2012
Little did Lake Prince Woods retirement community resident Louise Perkins realize when she was growing up in Covington, Virginia, that one day she would be the first female Air Operations Specialist in the Air Force.
The story of how she achieved that status began in July, 1951, during the Korean War, when Louise enlisted in the U.S. Air Force. The Lake Prince Woods retirement community resident loves telling that story and has spoken to several school groups in past years.
"In those days, women had to be 21 to join the military while men could join at age 18," she explained. Men trained at Lackland Air Force Base, women at Kelly Field.
"I completed basic training in Texas where it was hotter than blue blazes," she remembered. Once basic training was completed Louise was asked to be the Physical Training Instructor in basic training, but instead she chose to be transferred to Arizona State College where she and other WAFs (Women in the Air Force) took intensive business courses. In six months they covered what usually took two years to complete.
"We marched to class in uniform and lived in a dorm," she noted. The women marched in parade just like the men did.
After completing the business course, Louise was transferred to Selfridge Air Force Base in Michigan where she was a secretary.
"You've got to realize there were not many options for women in the military at that time," she explained. "Being a secretary or a nurse were about the only opportunities."
And she wasn't that keen on being a secretary.
Her superiors must have been keeping their eye on her and liking what they saw, for about a year later she was promoted to work in base operations and became an Air Operations Specialist, the first female to gain that rank.
"My job as an Air Operations Specialist was to keep logs of all the pilot's hours, record pilot flight plans and other data related to flight operations," she said. "I also took reports of UFOs (unidentified flying objects), and you wouldn't believe how many reports I took!"
Being stationed on an Air Force base in the early 1950s put her in a position to meet some people who would achieve military distinction in the coming years and allowed her to ride many types of aircraft.
"I got to meet Chuck Yeager while he was flying his experimental airplane that took off vertically," she recalled. "During my years there I flew in almost all the World War II era planes at one time or another and I also heard lots of stories from pilots who had flown in the war."
One of the poignant memories she has is when the first Korean War prisoners of war returned. They were brought to Selfridge, where she was stationed, and she flew with them to the hospital in Battle Creek, Michigan.
Louise continued as an Air Operations Specialist until January, 1955 when she married and was discharged from the Air Force. The military continued to be prominent in her life, though, because she married a man who was in the Coast Guard who eventually became Captain and Chief of Staff of the 3rd Coast Guard District.
Ever the patriot, Louise's military career didn't end in 1955. From 1973 to 1977 she was in the Coast Guard Reserves. She has very fond and vivid memories of participating in the first OpSail event in 1976.
Throughout her military career Louise was a woman dedicated to service and she continues that lifestyle today. Having moved to Lake Prince Woods in Suffolk, Virginia, five years ago, she has immersed herself in volunteering at the continuing care retirement community. She teaches bridge classes, volunteers many hours each week at the reception desk, makes one-of-a-kind greeting cards, and keeps the master log of all volunteer hours.
"I love staying busy," is how she explains her varied activities at Lake Prince Woods.
Though her military career options may have been limited as compared to what women today are achieving, Louise sums up her years of service. "I wouldn't take anything for those years!"
Lake Prince Woods is a residential retirement community offering an array of lifestyle choices. Located in Suffolk, Virginia, the community is nestled among 172 lovely wooded acres bordering Lake Prince. As a continuing care retirement community, Lake Prince Woods offers residential living, assisted living, memory care and skilled nursing care. To learn more, visit the website: http://www.lakeprincewoods.org.