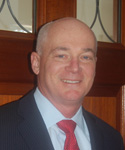 "I believe David A. Noyes possesses the quality and service oriented vision and commitment necessary to experience tremendous current and long-term growth, while delivering for their clients along the way."
Chicago, Illinois (PRWEB) November 14, 2012
David A. Noyes, a 104-year-old boutique investment firm with locations across the Midwest, announced today Lyle LaMothe has recently joined their Senior Advisory Board.
LaMothe, Senior Partner at Left Hand Logic, LLC, a business consulting firm, is a 25 year veteran of the financial services industry. Starting in the business as a financial advisor in San Bernardino, CA, LaMothe worked his way through the ranks to become head of Merrill Lynch U.S. Wealth Management, responsible for the strategic leadership and oversight of 23,000 professionals including 13,500 Financial Advisors entrusted with $1.5 trillion of client assets.
Jim Guthrie, President of David A. Noyes, said of the partnership, "We are excited to be partnering with Lyle as we expand on our century long history. Lyle shares our belief that providing advisors the opportunity to be totally focused on wealth management allows them to provide the best possible planning and investment advice. As an employee-owned company we focus on fulfilling the needs of our advisors through an industry leading platform, an open-door policy, and a commitment to providing the support an advisor needs to create success for their clients. Our partnership with Lyle, an industry thought leader, will provide us with invaluable knowledge, insight, and expertise as we focus on our dedication to our advisors in service of our clients."
"I believe David A. Noyes possesses the quality and service-oriented vision and commitment necessary to experience tremendous current and long-term growth, while delivering for their clients along the way," shared Mr. LaMothe. "By focusing on creating the right environment for a select number of high-performing, client-focused, value driven advisors dedicated to continuing to build on a long history of their superior brand, David A. Noyes is creating the kind of culture needed to restore complete trust and confidence in the financial services industry today."
LaMothe also noted the trend over the past decade of smaller firms gaining ground on big banks through enhanced technology, investor tools and access to fund managers and research. According to a recent Cerulli Associates study, independent advisors and RIAs are on track to oversee 40 percent of total U.S. client assets by 2013. By focusing on raising the quality of support of its advisors, developing new investment tools, and improving service delivery, David A. Noyes is poised to take full advantage of the industry shift.
About David A. Noyes
As the oldest Chicago-based member of the New York Stock Exchange, David A. Noyes continues building on a century long history of commitment to safeguarding wealth through fully utilizing the entire spectrum of investments available today. Our advisor-owned, entrepreneurial atmosphere benefits all clients by allowing our experienced team to deliver a highly personalized approach to investing, while specializing in building long-term plans for wealth management with carefully constructed portfolios based on meaningful conversations.