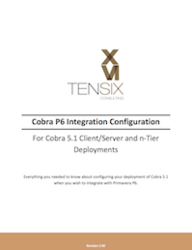 No other document brings this much detail together in one place for this specific, yet commonly encountered challenge
Virginia Beach, Virginia (PRWEB) November 27, 2012
This guide was first introduced at the Deltek Insight 2012 user conference held in Nashville, Tennessee in October. Deltek chose Ten Six to present and share real world implementation experiences with Deltek Cobra to its user base.
"The installation of a client/server or an n-Tier deployment makes a lot of sense the moment you wish to roll Deltek Cobra out to more than one user," said Neil Smith, Principle Consultant. "The trick to all this, is in understanding the details of a client/server or n-Tier deployment. Then, it's understanding what needs to be done when it comes to integration with Oracle Primavera P6 EPPM."
The 40-page guide is based on actual installations of functioning Deltek Cobra client/server and n-Tier environments. It also provides detailed instructions for the installation, configuration and execution of P6 Integration API and ODBC configuration setups. "No other document brings this much detail together in one place for this specific, yet commonly encountered challenge, said Smith. "Where do I install such things as the Integration API and ODBC data sources? How should these be configured? What problems might I encounter along the way? What does 'Directory not accessible from server" mean?"
The Integration Guide is available for free: http://www.tensixconsulting.com/2012/11/deltek-cobra-clientserver-n-tier-integration-document/
About Ten Six Consulting -
Ten Six Consulting specializes in implementing Enterprise Project Management (EPM), Project Portfolio Management (PPM) and Earned Value Management (EVM) solutions. As experts in implementing enterprise tool suites from Oracle Primavera, Deltek and Microsoft, Ten Six Consulting has unparalleled experience in successfully integrating these tools into client organizations, significantly improving their Project Management, Project Portfolio Management and Earned Value Management capabilities.
Contact: Emily Foster, Director of Marketing Ten Six Consulting, LLC Phone: 703-910-2600 Email: emily.foster(at)tensixconsulting(dot)com