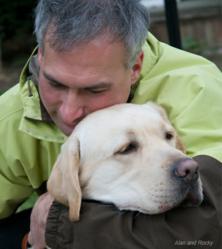 "Canine Company's continuing support of our work is an example of how a business can help change lives around the world. We are grateful and proud to have been chosen as their partner." - Sue Dishart, VP for Marketing & Development for Guiding Eyes
Wilton, CT (PRWEB) November 15, 2012
In the spirit of the holiday season and in support of an important cause, Canine Company (formerly known as the Canine Fence Company) has launched an online initiative and will host a holiday event to raise awareness and funds for Guiding Eyes for the Blind, an internationally accredited non-profit guide dog school.
For many years, Canine Company has been a strong supporter of Guiding Eyes, a non-profit organization dedicated to enriching the lives of blind and visually impaired individuals as well as children with Autism by providing them with the freedom to travel safely, thereby assuring greater independence.
On November 7, 2012, Canine Company launched an online initiative to raise funds for Guiding Eyes. During the checkout process on the Canine Company website (http://www.CanineCompany.com), customers are provided with the opportunity to donate a dollar amount of their choice towards Guiding Eyes. Canine Company will then supply a matching gift up to five dollars per customer donation to support the cause.
"Guiding Eyes and Canine Company have developed a unique partnership based on their mutual understanding of the powerful relationships between people and dogs," said Sue Dishart, Vice President for Marketing and Development for Guiding Eyes. "Canine Company's continuing support of our work is an example of how a business can help change lives around the world. We are grateful and proud to have been chosen as their partner."
To further supplement fundraising efforts and to provide community members with a fun activity to share with their families, friends and pets, the Howliday Benefit will take place on Saturday, December 15, 2012 from 12-3PM at 493 Danbury Road in Wilton, CT. This festive event will feature a visit from a Guiding Eyes representative with a future guide dog, pictures with Santa, and more! A nominal fee will serve as a donation to support the work of Guiding Eyes.
Canine Company is an organization comprised of pet-loving professionals dedicated to nurturing rewarding, lifelong relationships between pets and their owners by providing products and services to keep pets safe, healthy, and happy. The company is likewise supportive of causes that improve the lives of animals and people. This season, Canine Company is devoted to giving the gift of Guiding Eyes.
To find out more about Canine Company and Guiding Eyes for the Blind, or to make a donation, please visit: http://www.caninecompany.com/GuidingEyes.aspx
The Canine Company was founded in 1983 as the Hill family was seeking a solution to keep their dogs safe at home. Today, the family-owned business aims to provide peace of mind for pet owners through several services: Invisible Fence® Brand, the leader in electronic containment systems; Manners, personalized obedience training for pets; and the Pet Shop, a simple way to purchase innovative, pet-tested products. With a pet-loving team of experts throughout New England, New York and New Jersey, Canine Company is dedicated to keeping pets happy, healthy and safe while building lasting relationships with their owners. For more information about Canine Company visit http://www.CanineCompany.com or like Canine Company on Facebook at https://www.facebook.com/pages/Canine-Company/102422886476516?fref=ts. For inquiries, please contact Jesse Rosenschein at 203-834-3225 or jrosenschein(at)caninecompany(dot)com .
Guiding Eyes for the Blind is an internationally accredited 501(c)(3) nonprofit guide dog school founded in 1954. Since its inception, Guiding Eyes has grown to be one of the foremost guide dog schools in the world, known for its cutting-edge training programs, commitment to excellence, and dedication to its elite and superbly trained guide dogs. In 2008, the school launched Heeling Autism, a service dog program designed to provide safety and companionship for children on the autism spectrum. Guiding Eyes provides all of its services at no cost, and is dependent upon contributions to fulfill its mission. The organization's Headquarters and Training Center is located in Yorktown Heights, N.Y. and its Canine Development Center is in Patterson, N.Y. For more info, visit http://www.guidingeyes.org, like Guiding Eyes on Facebook (http://www.facebook.com/guidingeyes) or follow @guidingeyes on Twitter